STYLE
Katy Perry Channels Cleopatra For 'Dark Horse' Video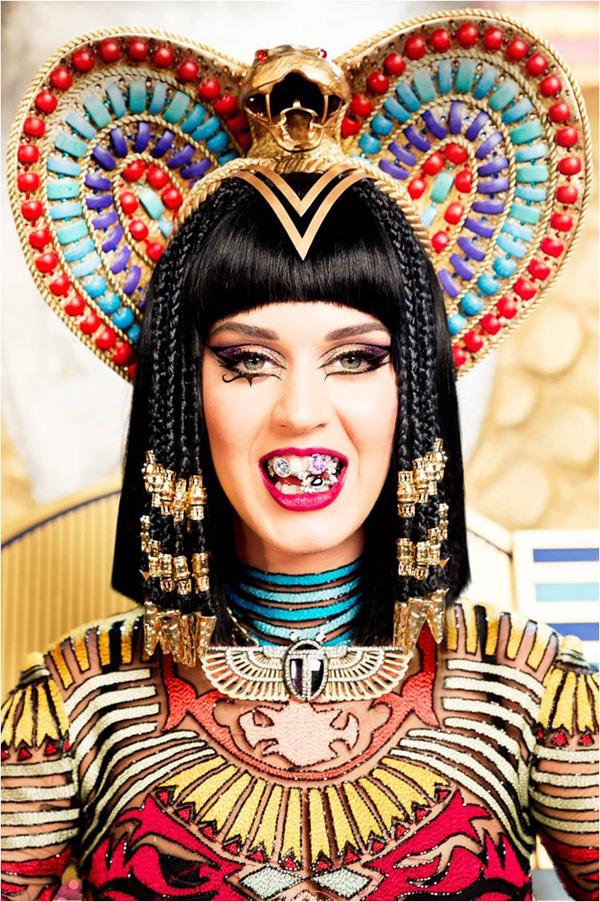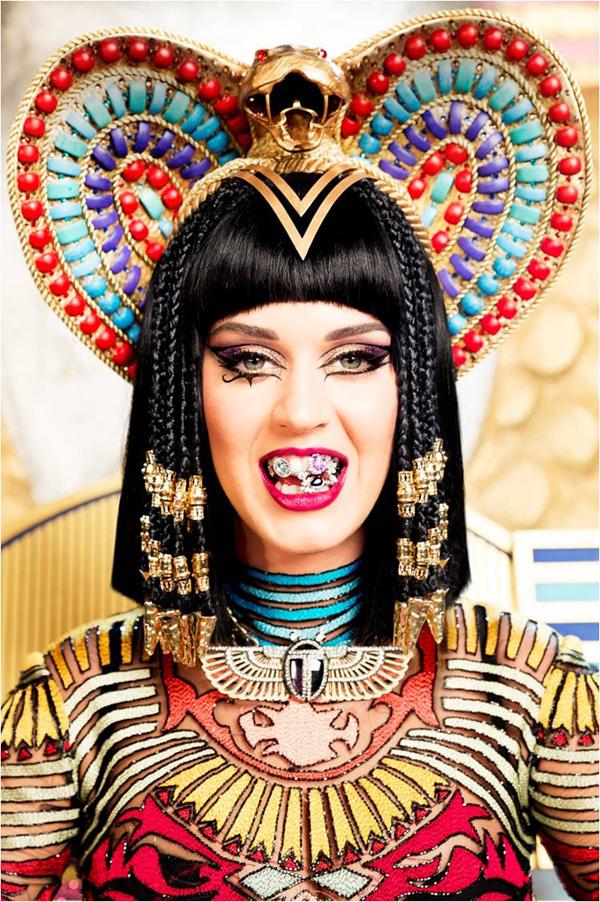 Never one to shy away from an eccentric beauty look, Katy Perry channels her inner Cleopatra as only she can for her upcoming video for "Dark Horse."
Jake Bailey, Katy's trusted makeup artist, explains the creative direction behind the look.
"The central element to this look is definitely the intricate liner," he says. "This eye makeup is based on the 'Egyptian Eye' also known as the 'Eye of Horus' which is an ancient Egyptian symbol of protection, royal power and good health. An appropriate look for Katy's regal character in this video!"
Article continues below advertisement
OK! News: 6 Ways to Stop Sabotaging Your Hair Styling Routine
Get the Look
Eyes
"I used COVERGIRL Bombshell Intensity Liner in Pitch Black Passion #800 to draw the intricate design around her eyes. It was an adaptation of several references that I found online, but I liked this one the best. It was important that I use a long lasting liner as it was a long day under hot lights and I needed it to stay in place. Once the liner was complete I added some sparkle with the Bombshell Shine Shadows. I used the Shine Shadow in Gold Goddess on the center and inner area of her lids and Ooh La Lilac on the outer corners. Before the Shine Shadow dried completely I tapped a bright purple glitter on top of the Ooh la lilac and a peach glitter on top of the Gold Goddess areas. I finished the look with a strip of false lashes and two coats of Bombshell Volume Mascara. The first coat is a rich volumizing formula that works Katy's own lashes into the false pair and adds extreme volume. The second end was used to add depth with a wet looking 'lacquer' finish.
OK! News: Behind-the-Scenes Scoop on Demi Lovto's Neon Lights Tour Style
Face
"I buffed a thin layer of COVERGIRL Outlast 3-in-1 Foundation all over her skin and neck using a flat tipped Kabuki brush to buff it out thinly and evenly. I then mixed a touch of Shine Shadow in Golden Goddess with an apricot cream blush on the back of my hand and blended it onto her cheeks and cheekbones for warmth and glow."
OK! News: Zendaya Lands Another Pretty Gig
Lips
"The look was finished with a bold blackberry lipstick called Euphoria by COVERGIRL LipPerfection. It's one of Katy's favorite colors!"
Catch the premiere of "Dark Horse" on katyperry.com on February 20.
What do you think of the singer's Katy Patra look? Tell us in the comments or tweet @OKMagazine.