STYLE
Kim Kardashian Goes Au Natural for the Cover of 'Allure'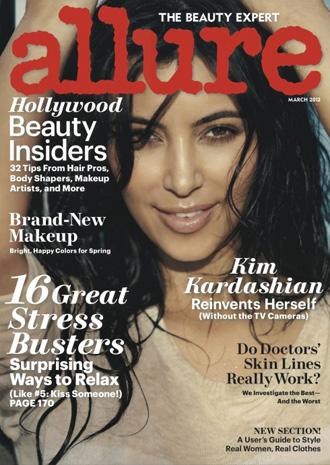 Kim Kardashian shows off her natural beauty in a new photo spread for Allure magazine, which shows her makeup-free on the beach. The reality star opens up about her whirlwind year, her future plans and if she's ready to start a relationship with someone new.
OK! NEWS: KIM KARDASHIAN TWEETS TOPLESS PHOTO OF HERSELF, KOURTNEY & KHLOE!
The experience of sharing so much of her personal life and the dissolution of her marriage to Kris Humphries on camera, "definitely made me want to be more private with my relationship, whenever I choose to get into one again," Kim confesses to Allure. "I'm not ready, but when that time comes, I'll be more cautious about who I let my world open up to."
Article continues below advertisement
"Is it tough to watch Kourtney & Kim Take New York? Yeah. Tough to see an unhappy time in your life," Kim adds. "Am I more guarded? Absolutely. But, also, I'm a firm believer that my show is who I am."
As for whether or not she'll ever consider marriage again, Kim says it depends on how her life unfolds. One thing is for sure though, she'll never do it the way she did this time around.
"When I saw Khloé Kardashian and Lamar Odom get married — and they had their wedding on TV — I thought, Oh, my gosh, that's so exciting! That's what I want! If you were to ask me now, that's not what I want," Kim admits. "I would just want it to be so special, with our family and close friends, and that's it. Somewhere on a deserted island, very private. No cameras."