STYLE
OK!'s 'Ask Heather' Advice Column: The 'RHOC' Star Answers Your Burning Q's Every Week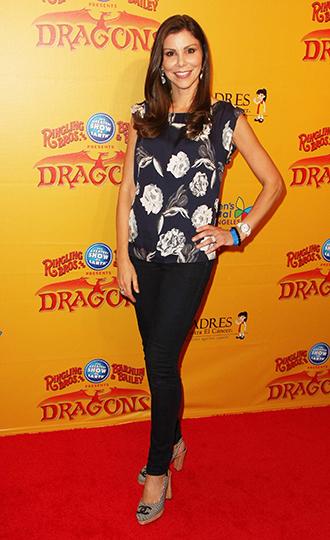 Article continues below advertisement
Heather Dubrow: A funeral, wedding, first date, therapy session, and at your kid's performance or game.
OK!: What are the DOs and DONT's of tech when it comes to relationships?
HD: You don't hear someone's tone through texting and emailing, so there's a chance of being taken the wrong way that needs to be taken into consideration. However, I do feel that sometimes sending your partner an email or a text allows them to think about it and digest it before responding, rather than giving a major reaction. In general you should be careful about what you put in writing—I always assume that someone else will somehow get ahold of it and read it, which probably isn't true, but you should realize that once you put something down in writing whether it's a text or an email, there's a danger that someone else is going to read it.
OK!: What's appropriate to say over text when you're beginning to date someone?
HD: I think texting, especially beginning dating texting, should be about the plans for when you're getting together and thank you's for a great time. Keep the getting to know you conversation for face-to-face.
OK!: What do you do when texting relationships become inappropriate?
HD: A texting relationship is still a relationship, so there's nothing innocent about that. Just because you're not on the phone, doesn't mean you're not communicating with them. You have to realize that when you're in a committed relationship and you're texting inappropriately or a lot with a co-worker, someone of the opposite sex, or someone you're attracted to, it's inappropriate and it needs to be stopped. If you feel like you have to hide your text messages from your partner you're doing something wrong.
Article continues below advertisement
OK!'s 'Ask Heather' Advice Column: The 'RHOC' Star Answers Your Mother's Day Q's!
OK!: When is it OK to send invitation via text? —@ttracyh
HD: I've always been a traditionalist, but for the first year ever I sent electric invitations for my kid's party. My feeling is that if it's for a child's birthday party or let's get together for drinks with the girls, I think it's completely acceptable to send an electronic invite and there are so many great ones—I love Paperless Post. However, when you're sending out a baby announcement, when you're getting married, when you're throwing an elegant party like a baby shower for someone, send an invitation. Not only is it elegant, but it gives the people that are closely involved a keepsake from the event.
OK!: What are your tips for sending unique invites?
HD: I was just talking with Tamra about her wedding invitations and we came up with something really fun, which I can't tell you, but I WILL tell you about my baby shower invite. It was so amazing since it was a full-sized baby bottle filled with pink and blue jellybeans since I was having boy/girl twins and the invitation label was on the bottle. It was so adorable. I love doing fun invitations and you know what, the thing about an invitation is it sets the tone for the event. So when you get a fabulous invitation and you open it and you go, "Oh my gosh this is so cool, I can't wait to go this party."
Article continues below advertisement