STYLE
OK! Exclusive: Lauren Conrad Reveals the Dish She Loves for Fall, the Fashion Item She Hoards, and Her Next Big Project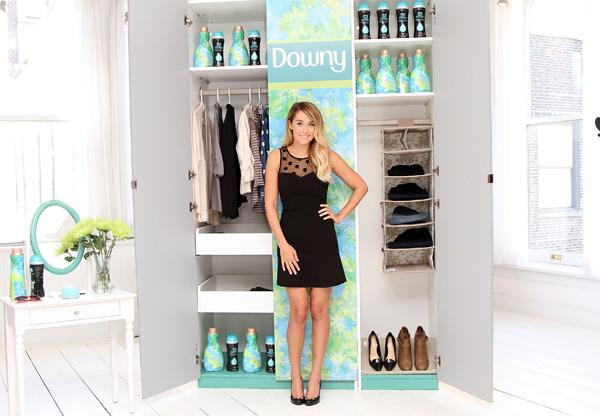 Lauren Conrad and Downy recently teamed up with California Closets to offer one lucky winner a closet makeover with styling from Elle Magazine and new clothes provided by LC's collection for Kohl's. I sat down with Lauren at the launch event for the contest where she talked about her own awesome closet and her fall must-haves. See what she had to say below and then repin your favorite LC-currated collection for Downy with the hashtag #ClosetLoveAffair to enter to win this awesome prize!
Article continues below advertisement
OK!: What are your favorite Downy products to keep your clothes smelling great?
Lauren Conrad: I like the Downy UnStoppables in Glow and the Infusions in Cashmere Glow. You use them together and they smell so nice!
OK!: So you just moved into your new house, how did you organize your closet?
LC: I worked with a closet organizer and we literally went through everything I had and gave it a place. Everything has a cubby and I just can't be messy. My big walk-in closet is all white wood and glass doors though. It's like my dream.
Lauren Conrad Takes Your Through Her Fall Collection for Kohl's!
OK!: What were some of the items that you couldn't part with when packing up your other home?
LC: For me, it's really basic items or the really special ones. If I have a really beautiful dress that I wore on a night that I never want to forget, I can't get rid of it. I also have a bunch of black skinnies. I don't need them all, but they are my go-to.
Article continues below advertisement
OK!: It's like that classic line we tell ourselves, "I'll wear it later!"
LC: I actually do a weird breakup with my clothes where I put them into sections—if I haven't worn the item in a year and I'm not going to wear it, I give it away. If I might wear it, I take those items and put them into a duffel bag under my bed. If I don't open the bag within six months, I give them away.
OK!: That's a good system. Are there any items season-over-season that you have to replenish?
LC: T-shirts are a big one for me. I'm currently hunting for good white t-shirts. I'm a spiller, I spill on everything I wear, so I'm consistently washing. Plus, I feel like I was never taught how to property do laundry—when you don't use a softener, clothes get kind of hard and rough. Hopefully that won't be a problem anymore, Downy has such good softener.
LC's Adorable Insta as a Little Girl!
OK!: Any beauty trends you're loving right now?
Article continues below advertisement
LC: I'm really into white eyeliner.
OK!: Iridescent gold in the inner corner is always gorge too.
LC: Oh yeah, Laura Mercier does a good highlighter for that!
OK!: We loooove following you on Pinterest. What are some Fall recipes you'll be pinning this season?
LC: I really like soups or stews. I am a cook and freeze girl because you can make doubles. For stews, it's really easy because you can put them in smaller containers, and then defrost and cook, and you have dinner done. I know that's not a glamorous thing, but I love a good stew.
OK! You're always working on a new project when I see you, what else do you have coming up?
LC: Next month I'm launching a website called The Little Market with my friend Hannah. She works for Human Rights Watch and she's my travel buddy. You never do a typical vacation with her—we've visited Africa, India, Nepal, El Salvador, and Bali. We spent half the time shopping, but as you do this you learn people's stories and struggles. We were seeing that it's really difficult for women to support themselves and their families, so we wanted to do something where we started selling their beautiful products through artisan groups that were fair trade. We're doing a soft launch first, but then we will announce it.
Are you excited to check out The Little Market? Will you be entering the #ClosetLoveAffair sweeps? Leave a comment below or tweet us your thoughts @OKMagazine!