STYLE
OK! Loves: Stuff That Will Make You Gorge—Fast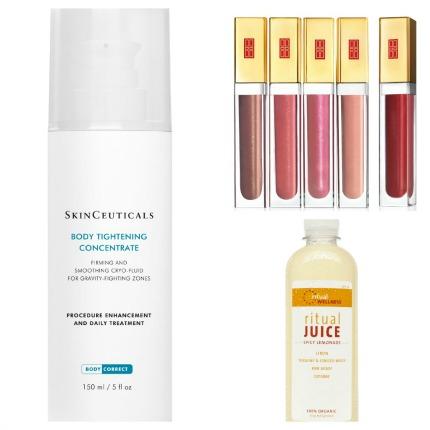 Who has time for anything these days, right?? Well, for things like spinning classes and primping sessions; we obviously have time for Real Housewives marathons all day, every day. Which is why I'm always on the hunt for "fake it till you make it," "get-rich/skinny/hot-fast" products, cleanses, and YouTube tutorials. If I can drink my way to a rockin' bod or apply a cream instead of stepping foot into the scary den that is—the gym—you better believe I'm game. Here are a few things I'm digging this week that are guaranteed to get you gorge in no time...
Article continues below advertisement
Let's begin with my Fashion Week savior: Ritual Wellness Juices. Not to be all "NYFW is so crazy and I'm way too busy to eat—like ever," but it's true. That's where these guys come in. Spicy lemonade, almond milk, and watermelon lime flavor flavs taste a heck of a lot better than any questionable protein bar you can find at some stand inside the tents and they're super-thirst-quenching when you are running from a show to a backstage beauty appt, to a preview, to a blowout appt, to an after-party. Plus, 100% organic, fresh-pressed, raw juices are good for you, duh! (The Kardashians are also fans if you need more convincing.) Visit ritualcleanse.com or call 949-954-6522 to order.
As a self-proclaimed lip gloss junkie I always have 4-5 tubes on me at any given time. I have my faves and although I'm constantly trying new ones, it's hard to get me to really stray from them. But then I met Elizabeth Arden's new Beautiful Color Luminous Lip Gloss and fell. in. love. HARD. Top three reasons why I'm obsessed: there's a mirror on the side of the cap (genius), the applicator smells like cake batter (OK, it's the calorie-free formula, but the point is the scent is heavenly), the consistency is super-moisturizing and shiny, not sticky or muddy, AND it comes in 14 awesomely flattering hues. That's four reasons, but who's counting. $18, elizabetharden.com
The only three words you need to care about: Body Tightening Concentrate. That's right, I said it. SkinCeuticals just launched a new line of body correcting products and this cooling fluid reverses the look of loose or sagging skin on the abs, butt, and thighs in 8 weeks. No joke. Just rub it on twice a day, refrain from using your SeamlessWeb app, and watch the results take place. $75, skinceuticals.com
What do you rely on when you want to look like you've spent a week at the spa, when you've really spent it on your couch? Tell me below or tweet me @KelliAcciardo!