STYLE
OK!'s Fashion Week Blog: Anna Sui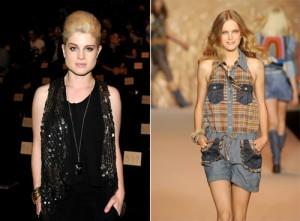 Can't make it to NYC for Fashion Week? Don't worry, OK!'s got you covered! Yesterday we headed over to check out Anna Sui's runway show for a sneak peek at the designer's spring collection and loved every minute!
SHOW: Anna Sui
WHEN: Sept. 15
WHO: Kelly Osbourne, Elle's Joe Zee
FASHION: If a hippie went to the farm was Anna Sui in a nutshell. Lots of patterns mixed together — lace, chiffon, fringe, feathers and sequins. Naturals were also big — browns, blues. Lots of messenger-style bags slung low on the shoulders. Feathered headbands, flowy sleeves. There was a spark of black and cream in the dresses shown near the end, but mainly long skirts and short dresses were the norm.
Article continues below advertisement
BEAUTY: Long flowy hair — either straight or wavy. Makeup was by the famous Pat McGrath. All girls had very peachy looking faces and pink lips.
CLICK HERE FOR ALL OF OK!'S NYC FASHION WEEK COVERAGE!
COLOR/OVERHEARD: Kelly Osbourne was letting every fan take pictures with her! People kept coming up to her and she greeted everyone with a smile. She looked amazing. She also told OK! why she holds Anna in such high regard: "There are three designers that really stand out to me, no matter what size I was, no matter what I was going through in my life, still lent me clothes and still fully supported me and were so great with me. And Anna was one of them and I love her so much. I'm such a fan of her line. The way that her packaging is and every little detail, like when you open up the inside of her jacket, it's really girly, really well thought out, she uses really great patterns and colors as well. I love her olive greens that she uses."
MORE ON:
Fashion Galleries
And what does one of the premiere celebs at this years Fashion Week think of her fanfare? Kelly told OK!: "It's really exciting to me, I still can't believe it! I'm still waiting for someone to call me fat or something or ugly. I can't believe it."
No chance of that one, Kelly!
By Rachel Levine