STYLE
OK!'s Fashion Week Blog: Betsey Johnson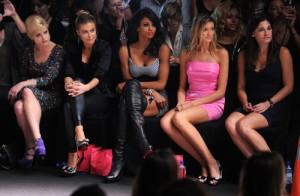 Can't make it to NYC for Fashion Week? Don't worry, OK!'s got you covered! Yesterday we caught Betsey Johnson's presentation for a sneak peek at the designer's spring collection and landed in a neon dream!
SHOW: Betsey Johnson
WHEN: Sept. 13
WHO: Kelly Osbourne, Carmen Electra, Denise Richards, Kristin Cavallari, Rima Fakih
OK!'S FASHION WEEK BLOG: HALSTON
FASHION: Renowned for the brightest, boldest and most fun shows at New York Fashion Week, Betsey Johnson didn't disappoint. Her frothy kaleidoscope of neon sportswear and cheeky cocktail dresses was a welcome change from the muted understatement that we've seen so much of elsewhere for spring/summer 2011.
Article continues below advertisement
Betsey's take on sportswear included printed leotards and catsuits in monochrome racing paired with frothy tutus, for a distinctly Betsey twist.
A sailor theme also blew through the runway. Jaunty sailor hats set off beautifully cut double breasted blazers and belted trenches accompanied by shot, tight pencil skirts for an hour-glass silhouette.
For cocktail-wear, Betsey championed the return of the 80s mini-crini (that's a tutu-like mini crinoline skirt for those of you who don't remember them from the first time around). Paired with sky-high Perspex platforms and fitted bodices, this look is all about the legs.
BEAUTY: Johnny Depp's Captain Jack Sparrow seemed to inspire Betsey's girls' wild teased hair, worn long and wild with mini braids and brightly colored hair ties. Neon pink lips and liberally-applied lime green block color eyeshadow enhanced the playful neon clothes, while rhinestone-embellished sweatbands worn as headbands gave a nod to the collections sportswear roots.
Article continues below advertisement
COLOR/OVERHEARD: Every film crew on the runway wanted to grab an interview with Kelly Osbourne, who showed up wearing a sample size Betsey Johnson jersey dress, showing off her toned new bod. Patiently answering wall-to-wall questions about her newly-svelte shap, the reality star admitted, "There is no secret. I've actually been losing weight slowly for a really long time," adding that she doesn't believe in fad diets and hates the taste of "cardboard" diet foods. Instead, she's eating healthfully and "exercising for half an hour a day."
Kelly also admits Betsey's her favorite designer and says "probably 90 percent of the clothes in my wardrobe are Betsey's." She already has her eye on a few pieces from the spring collection. "I want the Perspex platform shoes that light up when you walk," she told OK!. "I'm going to go backstage after the show and see if she'll let me take a pair now!"