STYLE
OK!'s Fashion Week Blog: Chris Benz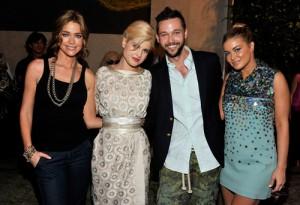 Can't make it to NYC for Fashion Week? Don't worry, OK!'s got you covered! Today we headed over to check out Chris Benz's runway show for a sneak peek at the designer's spring collection and loved every minute!
OK!'S FASHION WEEK BLOG: TRACY REESE
SHOW: Chris Benz
WHEN: Sept. 13
WHO: Kelly Osbourne, Susan Sarandon, Sebastian Stan, Carmen Electra, Denise Richards, Jessica Szohr and Caroline Manzo
Article continues below advertisement
FASHION: In one word Chris Benz's new collection was playful! Fun tweed and wide-legged pant suits —some of it looked like it stepped right out of another decade. Everything was paired with sky-high platforms.
Standouts included a blue and cream leather dress and an orange and cream leather trench.
OK!'S FASHION WEEK BLOG: DIESEL BLACK GOLD
BEAUTY: Make up was by Lancôme. Hair was pulled back into low buns, makeup was clean and fresh.
COLOR/ OVERHEARD:
— Sebastian was overheard telling his friend that he was at the presentation because he was working on a project with Susan. He was also talking with her closely before she left.
— Bravo love was all over Chris Benz! Brad from Rachel Zoe was seen deep in conversation with Caroline from Real Housewives of New Jersey with her daughter Lauren. They certainly seemed like they got along fabulously.
Article continues below advertisement
— Jess is a huge Chris Benz fan. Why does she love him? She told OK!, "When I put this on today, it just fit right, fits my body, it's still glamorous. I like the little details he throws on with it, like the little rope belt and I love the orange jacket and the blue dress right here. I think he did really good with this collection." She also agreed that it's very Gossip Girl-esque. "I see a little Blair Waldorf, a little Serena. Maybe a couple Vanessa items!"