STYLE
OK!'s NYC Fashion Week Blog: Christian Siriano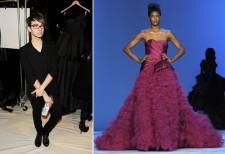 Can't make it to NYC for Fashion Week? Don't worry, OK!'s got you covered! We'll be hitting up all the big shows and reporting back right here, every day, as soon as we tear our eyes off the runway! This afternoon OK! grabbed a seat at Christian Siriano.
SHOW: Christian Siriano
WHEN: Feb. 12
Who: Veronica Webb, Amber Rose, Kat Deluna, Mena Suvari, Kristen Johnston, Scott Barnes, Leigh Lezark.
FASHION: Crystal-studded sunglasses in black and navy. Oversized, hanging bows on dresses. Lots of drapery on tops and dresses. Fuchsia seems to be a big color. Wool ruffled coats, chiffon blouses and chiffon draped sleeves. Lots of metallic. Black slim fit hight-waisted pants. Satin cocktail dresses with drapery as well.
Article continues below advertisement
BEAUTY: Some models wore all up, slicked back with a pouf in the front. Models also wore hair down, all to one side, in glam, loose waves. Hair by Antoinette Beenders for Aveda. Makeup was minimal and classy. Little/soft eye makeup and red lips. Makeup by Polly Osmond.
OK!'S NYC FASHION WEEK BLOG: PROJECT RUNWAY
COLOR/OVERHEARD: Amber Rose did not do any interviews. Kristen Johnston chatting and laughing with celebrity makeup artist Scott Barnes during the show. After the show, Kristen Johnston quickly escapes bac stage. Music had an electric and energetic vibe. Lots of lighting on solid white runway. Veronica Webb tells OK! that she has not been splurging on fashion pieces lately, but she does need a little black dress. Singer Kat Deluna tells OK! that when it comes to fashion, she loves Chanel and for the spring, she will be wearing lots of stylish, classy hats and rings all over.