STYLE
OK!'s NYC Fashion Week Blog: 'Project Runway' Show!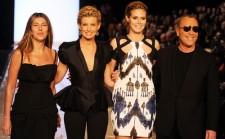 Can't make it to NYC for Fashion Week? Don't worry, OK!'s got you covered! We'll be hitting up all the big shows and reporting back right here, every day, as soon as we tear our eyes off the runway! Today we had the pleasure of watching the Project Runway contestants show off their designs — along with judges Heidi Klum, Tim Gunn, Nina Garcia and Michael Kors, of course!
SHOW: Project Runway
WHEN: Feb. 12
Article continues below advertisement
WHO: Heidi Klum, Michael Kors, Nina Garcia, Faith Hill, Raven Symone, Beth Ostrovsky.
* Because there are 10 designers still left on the show, they showed 10 designer lines so that nobody will know who the final three are. Heidi said they will only show the final three designer's lines on the actual show.
FASHION:
1. JAY NICOLAS SARIO: He thanked his parents and partner. Silver sparkly, furry skirt, blacks, navy blues, purples. Lots of exaggerated shoulders, almost medieval, cut outs, dress with razor back and scaled bottom, shimmery fabrics, jacket with ribbed shoulder pads, futuristic red dress with corset and ribbed straps.
2. JANEANE MARIE CECCANTI: She said her collection was inspired by things that grow, crystals and rocks. Loose white shirt with center cut, asymmetrical cuts, solid colors, blacks, whites, baby dolls, turquoise jackets, dress with turquoise top, black skirts and black leaf straps.
3. JONATHAN PETERS: He said his collection is aviator and is a celebration of a study involving sex and birds, (or something like that). Brown triangle dress with beaded top and high neck, red and brown strapless wrap tip with gray skirt, lots of reds and grays together, dark makeup, lots of high neck draped fabric, gothic looking, shimmery fabrics, tight gray dress with twisted one-strap shoulder, chained straps.
Article continues below advertisement
OK!'S NYC FASHION WEEK BLOG: GWEN STEFANI'S L.A.M.B.
4. ANTHONY WILLIAMS: Everyone cheered when he came out. He said his collection is inspired by pulling through in the economy. He said, "sit back, relax and remember, I love you back!" Sequin silver pants, purple top with huge sleeves, purple strapless dress with ruffled front, black sparkly fringe top, halter black dresses with fringe, halter black dress with thin fabric, silver sequin top dress with long ruffled bottom, lots of glamour, red carpet dresses, silver sequin long sleeve dress with low back and ruffled front was stunning.
5. JESSE LENOIR: Thanked his fiancée and said "I can't wait to marry you in a month." Said his collection is inspired by film noir, World War II, crime novels and women on the run. Very 40's, head piece, two-toned dresses with cut outs, green and grays, black and grays, zippers, tops lines in other colors, very World War II, military hats and emerald green, olive body suits with black suspenders, tranche coats, hair in buns, mini leather black corset tube dress with folded skirt.
Article continues below advertisement
6. SETH AARON HENDERSON: He said his collection is 1940's German and Russian military inspired. Red, black, white and gray colors. Checkered dresses, with goth-looking belts, dominatrix-pleather black dresses with red. Yellow plaid 1940's knee-length dress, yellow plaid pants with black top and back cut-outs. Long gray checkered coat with thick shoulders, bright purple halter dress with back cut outs in black lining.
7. EMILIO SOSA: He said his collection is called, "Color me bad." Mustard coat, bright red cocktail dress with tight belt, bright turquoise coat in blanket material, pleather belt, one-shoulder dress in mustard flower fabric, turquoise, long sleeve tight dress, red turtle neck top with turquoise sleeve and black lining, sequin mini dress, gold one shoulder draped dress. Not great.
8. MILA HERMANOVSKI: Said her collection is "inspired by shadows and all of the meanings they can have." Black- and white-striped loose top with black leather lining, gray and black two-toned dress, leather black tank dress, gray silk top, purple striped dress, lots of gloves on the models, gold sequin loose flow dress with black razor back lining.
Article continues below advertisement
9. BEN CHMURA: The collection is based on the Martian chronicles. White high-neck,big shoulder pad coat, futuristic, 80's block colors, brown pants with knee patches, baby clue legging with a brown dress over, big zippers, brown cut out designs, very symmetrical colors. Light brown pants with baby blue knee patches. Baby blue and red and gold. Light purple gloves, red leather checkered, red tight dress with leather ribbing, back cut out and red gloves over baby clue tights.
10. AMY SARABI: Thanked her family and said her collection focused on digital imagery and pleating. Pleated dress up to nose, white jacket with light pictures fabric, white skirt and mustard top, black dress with shoulder pads and ruffled skirt, mustard eyelet coat, beige dress with pleated doilies, black loose pleated dress with loosely-draped fabric over arms.
COLOR/OVERHEARD: Faith Hill is the guest the judge. Heidi — who dazzled in a printed harness detail strap dress from Gucci's Spring/Summer 2010 line and Gucci black leather high-heeled sandals — grabbed her by the hand from her seat before the show and walked her to the front with Michael Kors and Nina Garcia to pose for pictures. Beth Ostrovsky told OK! her husband Howard Stern would make a great judge. Beth was wearing an Alexander McQueen dress in honor of the designer.