STYLE
The PhilmGuy Reviews: 'The Girl with the Dragon Tattoo' Starring Daniel Craig & Rooney Mara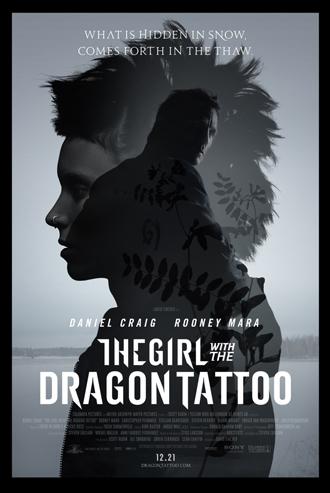 Sorry purists who are lovestruck by the Swedish adaptations of the trilogy that started with The Girl With the Dragon Tattoo. The Hollywood remake makes the films you love seem like little more than a dry run for the main event.
Thinking back to the way Noomi Rapace thoroughly owned the Stieg Larsson-created heroine Lisbeth Salander in the Swedish films, it seems impossible that Rooney Mara — who projected a choirgirl wholesomeness in previous roles — could possibly compare. But not only does Mara match Rapace's intensity and dark seductiveness, she makes the character thoroughly her own. As played by Mara, Lisbeth is the ultimate badass; a formidable force of hyperintellect and raging sexuality. Lisbeth, a devilishly brilliant hacker who masks a nightmarish past with goth makeup, punk hair, ink, piercings and shaved eyebrows. She's far from invulnerable, but even when exploited — and the film often treats her with savage sadism — perseveres because she's so indomitable.
Article continues below advertisement
THE PHILMGUY REVIEWS: YOUNG ADULT STARRING CHARLIZE THERON
Director David Fincher shapes the rest of the film around Mara's radiance, using his formidable experience in telling captivating investigative procedurals in Seven and Zodiac to not only tell Larsson's story with style and verve, but actually making it comprehensible. Fincher resists the urge to Americanize the tale, keeping the setting the same while simply having its actors speak English with subtle Swedish accents. With a less-skilled touch, these maneuvers would be laughable, but such is Fincher's mastery that it seems to have been the only way to go. The film feels particularly Swedish, almost making it seem as though we're watching Swedes speak their native tongue, which we somehow understand through the magic of film.
OK! NEWS: THE GIRL WITH THE DRAGON TATTOO RELEASES NEW MOVIE POSTER
The taut mystery surrounds the exploits of a disgraced journalist played by Daniel Craig to unravel the mystery of the death of a wealthy businessman's daughter. The Craig character takes on Lisbeth as his research assistant. The duo forms a crackerjack team that finds the rabbit hole goes far deeper than either imagined.
The chemistry between the leads is palpable, and central to the film avoiding the plight of becoming a creep-fest. Craig and Mara make their hard-boiled characters so thoroughly lovable that it's easy to ignore the heavy touches of Larsson's blunt melodrama. The heroes are hard people living in a harder world.
While I adore the film, I thought the ending felt rushed and more than a little unfair to Lisbeth, but that didn't stop the movie from becoming an overwhelming thrill ride that's every bit as brainy as it is exciting. When I first heard the Dragon Tattoo trilogy would be adapted by Fincher and crew, I dreaded the thought of sitting through Americanized versions of the movies. Now it feels like the next chapter can't come soon enough.