STYLE
The PhilmGuy's DVD Review: '50/50,' 'Paranormal Activity 3'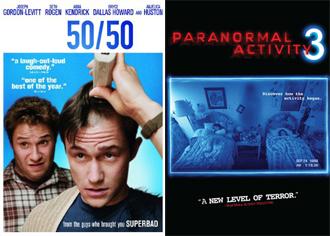 Belle du Jour Blu-ray – Director's Luis Buñuel's lavish 1967 drama stars Catherine Deneuve as the original desperate housewife, who begins moonlighting as a prostitute as an escape from her dreary daily grind. Buñuel's dreamlike imagery melds with Deneuve's unforgettable performance to form a cinematic dynamo that, while no longer as shocking as it was in its time, is still a chilling meditation on the intersection of dreams and reality. The Criterion Blu-ray celebrates the the well-regarded film with a tribute booklet, interviews with historians and others who have fascinating things to say about the movie, as well as a 1970s interview with the director.
Article continues below advertisement
THE PHILMGUY'S DVD REVIEW: I DON'T KNOW HOW SHE DOES IT, CONTAGION
50/50 – Joseph Gordon-Levitt and Seth Rogen star as best friends in an engaging and funny dramedy about facing mortality in your 20s. Gordon-Levitt is thoroughly convincing in the lead role, playing a cancer victim who's given a 50 percent chance of survival. Rogen plays his clingy, overbearing friend, who tries to coach him into getting the most out of what could be his final days. Anna Kendrick steals many scenes as a young therapist assigned to Gordon-Levitt while struggling to get a handle on her job. Touching and sweet while also darkly funny throughout, the film is a true gem, and a sign that director Jonathan Levine (The Wackness) is one of the most talented emerging filmmakers. Filmmaker commentary and deleted scenes highlight the extras.
Paranormal Activity 3 – The 1980s-set prequel shows sisters Katie and Kristie when they first started suffering attacks from the unseen poltergeist that would continue to plague them throughout their lives. Director Tod Williams sticks with the formula of showing long, mundane stretches punctuated by subtle movements that make a shocking impact. I'd expect the routine to have worn thin by now, but I was riveted from beginning to end. The Blu-ray/DVD/digital copy combo features deleted scenes and an extended cut of the film.
Article continues below advertisement
THE PHILMGUY REVIEWS: THE IRON LADY STARRING MERYL STREEP
Real Steel – Hugh Jackman manages to make a movie about real-life Rock 'Em Sock 'Em Robots exciting. He plays a down-and-out pugilist and deadbeat dad who takes to the fighting-robot circuit to find success, reuniting with his boy in the process. It sounds hokey, but the film packs a punch on a Rocky/The Fighter level, convincing you to get genuinely interested in its well-executed robotic throwdowns. Evangeline Lilly makes the most of a thankless role as Jackman's romantic interest. The Blu-ray/DVD combo includes deleted and extended scenes, as well as four making-of featurettes.
Wings Blu-ray – The first-ever best picture Oscar winner, the silent Wings (1927) is worthwhile as a historical document and a discussion piece, but doesn't quite deliver on an entertainment level. The film looks excellent in high-definition, has some impressive effects — with a few splashes of color here and there to emphasize the effects -- and tells a cohesive, if stodgy story about a love triangle set during World War I, as rivals battle for the heart of the same woman (Clara Bow). Gary Cooper also shows up in an early role. Extras highlight the film's remastering and photography, but it could have benefited from a historian's commentary track.