STYLE
The PhilmGuy's DVD Review: 'The Change-Up'; 'Harry Potter and the Deathly Hallows Part 2'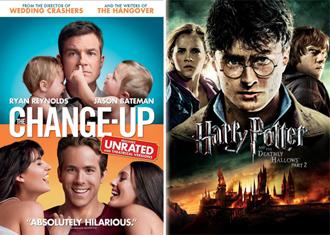 The Change-Up – Jason Bateman is a buttoned-down, responsible dad, and Ryan Reynolds is his unreliable, womanizing best pal who has got stuff in his fridge that has lasted longer than most of his relationships. When they urinate in the same fountain after a night of debauchery, they switch souls in the manner of Freaky Friday and have to deal with one another's problems. Relentlessly dirty, usually funny and buoyed by top-of-their-game leads, the film successfully carries the banner of The Hangover and its ilk. Director commentary, a deleted scene, a gag reel and a slew of making-of featurettes top off the Blu-ray/DVD/digital copy package.
Article continues below advertisement
Harry Potter and the Deathly Hallows: Part 2 – Due out Friday, the series finale mostly lives up to the hype, serving as a satisfying send-off for the eight-film saga. Faster-moving and darker than most of its brethren, the brutal film focuses on the final all-out war between Harry and his allies against Voldemort's dark forces. Although the whimsy of past Harry Potters is largely absent, the tension and excitement more than makes up for any shortcomings. I'm annoyed at how they botched the epilogue from the book, though, taking a too-subtle route rather than focusing on the precious moment of mutual acknowledgment between the grown-up Harry and Draco. The Blu-ray/DVD/digital copy combo features Maximum Movie Mode interactive commentary, a look at the women in the series and a conversation with J.K. Rowling and Daniel Radcliffe.
The Adventures of Sharkboy and Lavagirl – Before he was an unlucky-in-love werewolf, Taylor Lautner was a pre-teen sharkboy. This zany 2005 kiddie flick from writer/director Robert Rodriguez plays like the black sheep of the Spy Kids family, with gimmicky visuals that look as though they're fresh off the set of Double Dare and horrendous overacting. George Lopez plays a teacher and supervillain who exists to make life difficult for Max (Cayden Boyd), who daydreams a world of hyperactive imagination protected by the heroic title characters. Rodriguez's commentary and a making-of featurette make up the extras.
Article continues below advertisement
Atlas Shrugged: Part 1 – If Aaron Sorkin was a tea party member with half the writing skill, this is exactly the type of movie he would make. Expect a lot of politically charged walk-talking in this adaptation of the tough-to-film Ayn Rand novel. The story is set in a world in which socialist-minded political upheaval has spurred the movers and shakers to pick up their balls and go home. The Naomi Watts-resembling Taylor Schilling plays a high-powered executive who digs through the mystery behind societal collapse while trying to keep her business in the black. Surprisingly slow-moving given the rapidfire dialogue, it's depressing to realize that this is only the first of a trilogy. Commentary and a making-of documentary lead the slate of supplements.
THE PHILMGUY'S DVD REVIEW: CAPTAIN AMERICA; MONTE CARLO
Band of Brothers/The Pacific Special Edition Gift Set Blu-ray – HBO's definitive World War II miniseries catalogue the emotion and heft of combat, splicing tales from the front lines with brief newsreel-style footage and interviews with veterans. Although The Pacific is gripping and handsome, the real treasure here is Band of Brothers, which rounds up a cast including Ron Livingston, David Schwimmer, Colin Hanks and James McAvoy, as opposed to the well-cast but less-talented group of unknowns in the other series. The 13-disc compilation offers all the extras from the previous Blu-ray releases, as well as a new documentary that examines the lives of the soldiers on whom the series are based.
Article continues below advertisement
Blue Velvet: 25th Anniversary Edition Blu-ray – David Lynch's 1986 drama is so wrong that Dennis Hopper's part stands out for being far more outrageous than the usual screwball fare for which he was known. Kyle MacLachlan plays a college student who finds someone's severed ear in a field near his suburban home. His investigation intertwines his path with a high school student (Laura Dern) and a seductive crooner (Isabella Rossellini), then eventually to a the sexually abusive, psychopathic druggie played by Hopper. Expect plenty of Lynch's patented surreal non sequiturs and barely cohesive scenes that stick with you. The Blu-ray includes nearly an hour of previously unseen footage, as well as outtakes.
THE PHILMGUY'S DVD REVIEW: KEVIN SMITH WEEK
Fanny and Alexander Blu-ray – Criterion tackles the beloved 1982 Ingmar Bergman saga, which examines the sorrows and joys of a Swedish family in the early 1900s. It was originally filmed as a four-part TV miniseries but edited for a theatrical run. I find the film a little slow, despite loving most of Bergman's other work, but the artistry is undeniable, making this crack for most film geeks. The three discs include both the theatrical cut and the original miniseries format, as well as a mind-spinning slate of extras, such as Bergman's own making-of doc, interviews with the filmmaker and an impressive tribute book.
Article continues below advertisement
Gia Blu-ray – In one of her first notable roles, circa-1998 Angelina Jolie plays supermodel Gia Marie Carangi, a fashion icon who died at 26 after an AIDS diagnosis. The biopic explores her meteoric rise in 1970s and 80s New York, as she thrives and stumbles through a glamorous world of easy drugs, fleeting love affairs and endless nights at pulsing discos. Faye Dunaway and Mila Kunis, who plays Gia as a tween, show up in memorable supporting roles. The disc has few notable extras.
Identification of a Woman – In this 1982 drama, Italian master Michelangelo Antonioni directs a presumably autobiographical treatise about a frustrated film director whose wife has just left him. He begins a leering, somewhat predatory search for his next lead actress, whom he'll want to collaborate with in more ways than one. This is a perfect movie for those who are interested in art films but really want to watch soft-core porn. The Criterion adaptation includes a booklet featuring an essay by a film historian and a 1982 interview with the filmmaker.
Article continues below advertisement
Little Big Man Blu-ray – Director Arthur Penn's 1970 Western — viewed as a critique of the Vietnam War — follows the reminiscings of Jack Crabb (Dustin Hoffman), a 121-year-old tall tale-teller who claims to have been a survivor of Custer's Last Stand, and lived with both Indians and Americans during his incredibly long and eventful life, which included a partnership with Wild Bill Hickock (Jeff Corey). While Hoffman is in his prime – endearingly blustery in the title role, the movie moseys along at a leisurely pace, wearing more than its share of dust. Faye Dunaway is also strong as a sultry preacher's wife. The extras are unremarkable.
Mickey Mouse Clubhouse: Space Adventure – The adult-irritating, kid-entrancing Disney Channel show sees Mickey and the gang take to outer space, where he meets a green version of himself that terrified my 2-year-old daughter. The special is more engaging than most episodes because it has a plot that goes beyond the usual "Let's spring Goofy out of rehab again." OK, that's never been the theme of an episode, but I wish it were. The DVD/digital copy combo comes with glow-in-the-dark stickers that my daughter thinks are ghosts when stuck on her wall.
Article continues below advertisement
Neighbors – The terrible 1981 comedy, which rounded up the headliners from The Blues Brothers for another go-round is watchable only because of the surreal performances from its stars. Particularly miscast is John Belushi in his final performance, playing a nebbish family man who toils away through a dull existence until wild, irritating neighbors (Dan Aykroyd and Cathy Moriarty) move in. A braindead sequence of ludicrous plot inventions, each making Aykroyd and Belushi play to their weaknesses and unleash one bomb after another, just makes you sit back and shake your head. There's little of value in terms of special features.
Trespass – Nicolas Cage and Nicole Kidman play a workaholic-philanderer couple who, along with their teen daughter (Liana Liberato) are victimized by masked home invaders looking to raid their home for valuable diamonds. Director Joel Schumacher pulls off yet another Hitchcockian exercise in suspense, much as he did with Phone Booth (2002). Cage does well to restrain his tendency for outrageous overacting, and Kidman, who is adamantly refusing to age, is strong as a reserved woman ravaged by inner turmoil. The Blu-ray/DVD/digital copy combo includes a making-of featurette and little else.