STYLE
The PhilmGuy's DVD Review: 'Mission: Impossible — Ghost Protocol' starring Tom Cruise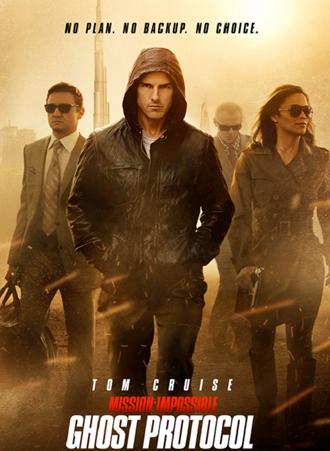 Chinatown Blu-ray — In director Roman Polanski's 1974 throwback to 1940s film noir, Jack Nicholson plays a private eye who is hired to track down a husband suspected of cheating. He tumbles down a rabbit hole that finds him tangling with power players in the corrupt Los Angeles bureaucracy. The film endures as a classic for its snappy, quotable dialogue, deft cinematography and note-perfect supporting performances from the likes of Diane Ladd, John Huston and Faye Dunaway. The extras on the disc seem to be rehashes of previous DVD releases.
Article continues below advertisement
Frozen Planet Blu-ray — Another BBC ace, the nature documentary series tackles the Arctic and Antarctic in a dazzling epic that makes March of the Penguins seem like a silly lark by comparison. David Attenborough delivers stirring narration as we peek inside the lives of the incredible survival instincts of polar animals. The set includes a look at scientific research being conducted in the planet's coldest climes, as well as several making-of featurettes and production diaries.
OK!'S PHILMGUY DVD REVIEW: THE TWILIGHT SAGA: BREAKING DAWN: PART 1 STARRING ROBERT PATTINSON AND KRISTEN STEWART
Mission: Impossible — Ghost Protocol — A late-2011 surprise, this overlooked Mission: Impossible flick was a top-notch thriller that proves Tom Cruise is still at the top of his game. Cruise's Ethan Hunt character opens the film locked away in prison and launches into a breathtaking escape sequence that leads to him joining a team of fellow fugitives looking to clear their names and fend off a potentially catastrophic attack. Director Brad Bird keeps the set-pieces rolling, leading to some prime tower-scaling action in Dubai. Jeremy Renner and Simon Pegg make strong supporting showings while doing little to dim Cruise's star power. The Blu-ray/DVD/digital copy combo features deleted scenes, an alternate opening and a smattering of featurettes.
Article continues below advertisement
Shame — Michael Fassbender plays a sex addict whose life is literally screwed up. He bounces from one joyless encounter to the next while dealing with his flighty, live-in sister (Carey Mulligan). The sexually explicit film is a head-turner, but far from pornographic, thanks to emotionally pained turns by its stars. You won't find a less erotic sex film out there, but the movie works as a brooding, dark-as-night drama. Extras focus on Fassbender's spellbinding performance, and there are also making-of pieces that address director Steve McQueen's vision.
Treme: Season 2 — After a decent but largely forgettable debut season, HBO's New Orleans saga — set in the aftermath of Katrina — finds its flow in the second go-round. Once again, we skip back and forth between various interrelated characters in the city, including struggling musicians, opportunistic land-grabbers and an entrepreneurial chef. Although the loss of John Goodman as a bombastic vlogger hurts, the remaining cast, led by Wendell Pierce, Melissa Leo, Khandi Alexander, Clarke Peters and Kim Dickens, are given room to explore their characters with more depth and relish.
OK!'S PHILMGUY REVIEWS AMERICAN REUNION STARRING JASON BIGGS AND ALYSON HANNIGAN
Yo Gabba Gabba: Super Spies — The Nick Jr. kids' show continues to impress, and this DVD release is worthwhile because it includes four previously unaired episodes that feature guest appearances from the likes of Ladytron, Jem and Jason Bateman. Catchy music and amiably silly storytelling make the show fun to watch with your kids. There's not much here in the way of extras.