STYLE
The PhilmGuy's DVD Reviews: 'The Girl with the Dragon Tattoo', 'The Muppets'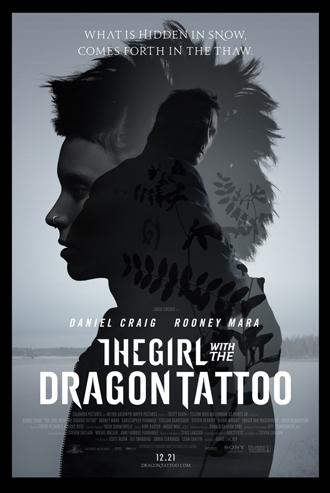 Battle Royale: The Complete Collection Blu-ray — An off-the-rails, hyper-violent cult favorite series from Japan, the films are cited by many as inspiration for The Hunger Games. Originally released in 2000 and 2003, the movies tackle a near-future dystopia in which teenagers are forced to battle to the death for the amusement of a jaded populace. Gritty effects meld with intense performances for surprisingly moving ballets of bood. The three-disc set comes with loads of extras, including spotlights on the effects, rehearsals and making-of featurettes.
Article continues below advertisement
Carnage — Director Roman Polanski's film echoes Who's Afraid of Virginia Woolf, pairing two couples who engage in verbal swordplay that grows increasingly vicious as the night wears on. Kate Winslet, John C. Reilly, Jodie Foster and Christoph Waltz put on an acting clinic, igniting fireworks in a tense chess game about the parents negotiating a proper resolution to an incident in which one couple's kid bullied the other. The extras include background featurettes and red carpet footage.
OK!'S PHILMGUY DVD REVIEWS: BREAKING DAWN PART 1 STARRING ROBERT PATTINSON AND KRISTEN STEWART
The Girl with the Dragon Tattoo (2011) — Rooney Mara sizzles as Lisbeth, the mysterious heroine of the breakneck drama. A hacker extraordinaire, Lisbeth is a master detective with a tortured past and present who teams with a biographer (Daniel Craig) to unravel the mysteries surrounding a screwed-up wealthy family led by Stellan Skarsgard. Director David Fincher one-ups the previously released Swedish adaptation of the Stieg Larsson novel, stirring the potboiler with expert panache The Blu-ray/DVD/digital copy combo comes with Fincher's commentary, in-depth looks at the main characters and several making-of featurettes.
Article continues below advertisement
Hop — In one of the better family films released last year, James Marsden plays a slacker who tells the story of how he became the first human Easter Bunny. His co-star is an animated rabbit voiced by Russell Brand in top form. The bunny is next in line to take the Easter Bunny throne, but he'd rather play his drums all day, so the characters play out twin coming-of-age stories in which both find their true calling. Hank Azaria lends his voice talents to a pair of chicks who are out to take over the Easter operation. Due out Friday, The Blu-ray/DVD/digital copy combo includes a short film starring Azaria's characters, as well as several mildly entertaining featurettes.
The Muppets — Crowds raved over this revival of Jim Henson's beloved puppets, but I found the movie too glib and slow to maintain my interest. Jason Segel, who penned the script, stars along with Amy Adams. The insipid plot is about the efforts of Segel and his muppet brother to reconnect the old gang so they can revive their careers. Segel and Adams, who plays Segel's girlfriend, bring significant energy to their roles, but they amount to little more than window dressing. Thankfully there were a couple entertaining song-and-dance numbers that kept me from falling asleep. The Blu-ray/DVD/digital copy combo includes filmmaker commentary, deleted scenes, a blooper reel and a couple making-of featurettes.
Article continues below advertisement
OK!'S PHILMGUY REVIEWS 21 JUMP STREET STARRING CHANNING TATUM AND JONAH HILL
The Sitter — Jonah Hill stars in a thoroughly terrible farce that awkwardly tries to recreate the chaos of Adventures in Babysitting. Hill plays a slacker guilted into watching three bratty kids, whom he ends up dragging into a wild, nonsensical night of drug deals, car chases and street fights. Director David Gordon Green (Pineapple Express, Your Highness) makes an unfortunate miscalculation, The Blu-ray/DVD/digital copy combo includes a making-of doc, a look at Hill's role as producer, a gag reel and other outtakes.
Tinker Tailor Soldier Spy — Somewhat overlooked in the awards chase was this elegant, serpentine Cold War spy thriller about rampant treachery and paranoia in the British MI6. Gary Oldman, Colin Firth, Toby Jones and John Hurt all give stunning performances, delivering tightly written dialogue with understated relish. The Blu-ray/DVD/digital copy combo boasts deleted scenes and an interview with author John Le Carré, whose work the film is based on.