STYLE
Travis London's Healthy Chic Eat of the Week!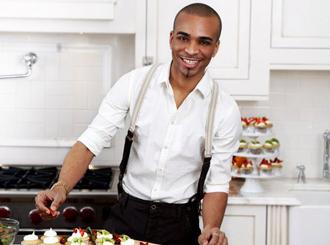 Travis London is all about eating and living well — the healthy and chic way — and each week he shares tips and recipes right here on okmagazine.com.
"Say goodbye to cold winter days and hello to the warm carefree days of spring with my surprisingly simple spring perfection pesto pasta. This recipe takes no time to make, leaving you to have more time to spend in the company of the ones youlove," Travis tells OK!.
Article continues below advertisement
TRAVIS LONDON'S HEALTHY CHIC EAT OF THE WEEK — GRILLED FISH TACOS
Surprisingly Simple Spring Perfection Pesto Pasta
Serves 6
Ingredients:
16 ounces whole wheat pasta canola oil spray
1 1/2 cups fresh basil leaves
2 cloves garlic
1/8 cup red wine vinegar
1/3 cup canola oil
1/2 cup walnuts
1 1/2 teaspoon kosher salt
3/4 cup low fat grated Parmesan cheese
1 4 oz can pitted black olives 4 organic plum tomatoes, roughly chopped
1/4 cup shredded organic carrots
1/4 cup chopped organic red bell peppers
2 cups chopped fresh spinach
TRAVIS LONDON'S HEALTHY CHIC EAT OF THE WEEK — LOW CALORIE CHEESECAKE
Directions: In a stockpot, bring water to a boil over high heat. Add pasta and spray lightly with canola spray to avoid pasta from sticking. Cook pasta until al dente, drain, rinse with cold water, and set aside to allow to cool. In a blender or food processor, place basil leaves,garlic, vinegar, canola oil, walnuts, and salt and pulse until completely smooth. Place pasta in a large mixing bowl with the pesto puree and remaining ingredients. Toss well to combine.
Chic Tip: For a chicer presentation when serving, present on a serving dish topped with basil leaves. Healthy Fact: Whole wheat pasta is packed with more fiber than regular pasta.
For more tips and recipes from Travis, visit HealthyChicEats.com and sign up for his free daily newsletter. You can also like Travis on Facebook at Facebook.com/TLTravisLondon and follow him on Twitter at twitter.com/TLTravisLondon.