STYLE
Win a $5,000 Wardobe Makeover Sesh with Catt Sadler AND Steal Her Style Secrets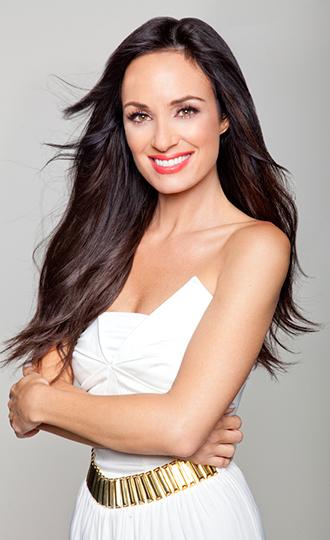 Catt Sadler is always camera ready, which is why she's the perfect person to help you look the same way! The E! News host recently teamed up with Scotch-Brite Printed Lint Rollers on their First Impressions Photo Contest, where you can enter to win $5,000 towards a new wardrobe and personal styling session with her. While that's a cool prize and all, we decided to be a little more greedy and grill Catt on her style secrets and celeb obsessions—see what she had to say below!
Article continues below advertisement
OK!: Speaking of interviewing people, what's a good ice breaker to get a convo going with a hot guy?
CS: Shoes—always notice someone's shoes. Even on a guy, if he's got more than "hot" going on he will have thought about his shoes and that's ultra sexy!
OK!: If you could have one celeb write a forward to a book about your life (à la Ross) who would it be?
CS: Gwyneth Paltrow. She's a mom with two kids like me, we both married Brits, and we both stay fit doing The Tracy Anderson Method. She's one celeb I get star struck around. I secretly want to be her BFF. My little dudes would dig that as well since she IS Pepper Potts in Iron Man—duh!
Article continues below advertisement
OK!: What's your best first impression outfit?
CS: A clean, streamlined, "tidy" look. I go for skinny jeans/pants, a strong blazer, and very, very high heels. A classic Prada or Manolo is always money.
OK!: Which trending news story are you obsessed with at the moment?
CS: I adore Kim Kardashian, she's always one of the sweetest celebs I run into. I think she's so beautiful pregnant. I wish everyone would leave her alone so she could just focus on having her baby. I mean, I get the obsession, but just let her be!
See Inside Kat Von D's Wonderfully Weird Home!
OK!: Rapid fire questions—name the first thing that comes to mind—go!
CS:
Famous couple you want to double date with: Ryan Gosling and Eva Mendes.
Celeb kids you want your kids to have a play date with: Gwyneth Paltrow's.
Star shopping buddy: Three-way-tie—Zoe Saldana, Jessica Alba, and Kate Moss.
Three celebs you would invite to a Great Gatsby-style rager party: Leonardo DiCaprio (natch), Johnny Depp, and Jennifer Lopez.
Funniest celeb you've met: Russell Brand.
26 Housewives Fashion Looks You Need to See
Do you love Catt as much as we do? Would you love to win a personal styling session with her? Sound off in the comments below or on Twitter @OKMagazine!