VIDEOS
Is 'The Host' This Spring's Must-See Romantic Movie?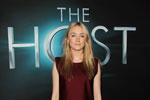 Werewolves, vampires, and... aliens? Oh my!
Stephanie Meyer has already made quite the impression on Tinseltown with the vampire drama she created in The Twilight Saga. While the love affair (or love triangle. Hey, Jacob.) between Bella and Edward is over, Stephanie isn't finished making major movies. This Friday, The Host is making it's big screen debut and will do it in a very alluring way—the supernatural.
Article continues below advertisement
OK! News: Max Irons Is the OK! Hottie of the Day!
From what can be gathered in the trailer, the flick seems like it's filled with a passionate romance and a ton of sticky situations with a non-human force. Like all those vamps in Forks, Washington, these non-humans share a sparkling-eye feature. Maybe Max Irons and his female co-star, Saoirse Ronan, will share the same chemistry that Kristen and Robert had. There's always hope for an on-screen love fest.