VIDEOS
The Hot and Handy Men of Style Network's 'Built' Open Up About Valentine's Day Gifts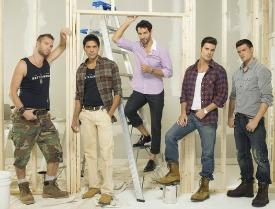 We caught up with the hunky men of Style Network's new show Built. They are a group of male models that also do home renovations—win win!
So we asked Mike, Sandy, Donny, Gage and Shane: when do you ACTUALLY start thinking about buying a Valentine's Day gift? You might be surprised by their answers!
They also shared their go-to gifts to buy, if they have actually "built" their special someone a gift, and most importantly—the short message they would write on a candy heart. All we were thinking was "Call Me"!
Article continues below advertisement
Check back tomorrow for more Valentine's Day insight from the guys! And for more info on the show click here.
You could win a signed copy of their calendar! Head over to our Twitter @OKMagazine for our latest Tweetstakes. We will be picking 7 people at random by 6pm on Wednesday, February 13th to win! Just follow @OKMagazine on Twitter and re-tweet our tweet about the contest to be entered!
MORE VIDEOS YOU'LL LOVE: