VIDEOS
Jay Cardiello and RHONY's Kristen Taekman Break Down Their New 20-Minute Workout DVD!
Jay Cardiello and Kristen Taekman's new workout DVD, Body Back by JCORE, is all kinds of convenient. The exercise pro and The Real Housewives of New York star joined forces to create an exercise routine for women that would be feasible to a busy lifestyle, would boost self-confidence through attainable goals, and, of course, would give a workout solution to those looking to get their body back. The result the achieved together is a fitness DVD that spans 20-minutes, only requires a 4x4 performance space, combines cardio and strength-training workouts into one, and incorporates moves named after fun and friendly (and memorable!) phrases you use every day. So you get why we called it convenient now, right?
Article continues below advertisement
We caught up with Jay and Kristen and got the scoop on the new Body Back by JCORE project. What's more? Kristen and Jay will be instructing the OK! Editors tomorrow in an exclusive Body Back Boot Camp class at Complete Body in New York City! We can't wait to see what they have in store for us!
Take a look at what they had to say here!
OK! Magazine: You've made workout DVDs in the past. What's different about this one?
Jay Cardiello: It is 20 minutes, and it is based upon doing the protocol or exercise for a duration of 30 seconds as opposed to a repetitional base. It gives an opportunity for women to celebrate themselves performing as many repetitions as possible. Also, it gives the opportunity to the person to really concentrate on form. When you implement a program where a person can actually attain a goal and implement and continue it every day, that naturally builds confidence.
Article continues below advertisement
OK! News: Why Was Kim Kardashian's Bridal Shower Canceled?
OK!: Why did you decide to make this an equipment-free DVD?
JC: Twenty minutes is a great number where people can make something feasible and continue a commitment. Also, too, we didn't want to turn your house into a gym. We didn't want to have a deterrence where people could say, "I can't do this. I don't have this equipment." Kristen and I wanted to be able to allow women to take what they naturally have and use it to the best of their abilities. We always say we want to change your life without changing your lifestyle.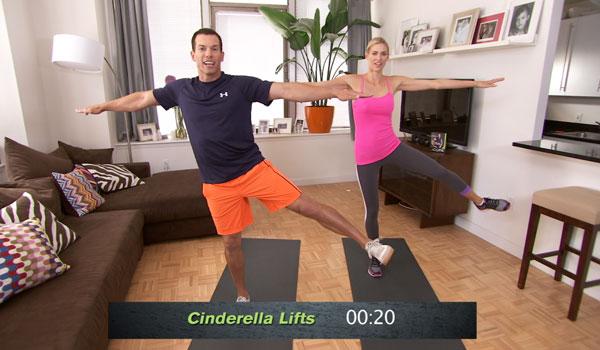 OK!: Kristen, did you talk to Jay about areas of the body that women normally would want to work on?
Kristen Taekman: Definitely. We talked about that. Another thing is that a lot of the exercises have to do with typical "mommy moves." When you're picking up your baby off the floor or out of the crib, it helps to strengthen the muscles in your legs and in your back. That definitely came into it. For me, it had a lot to do with building endurance. Twenty minutes doesn't seem like a lot, but when you're doing this video, oh my goodness!
Article continues below advertisement
OK!: How would you suggest a beginner incorporate this workout into their daily or weekly routine?
JC: A female can implement this up to four times a week. It's a full-body exercise program that synergistically combines cardio and strength training. It's just like you're doing the treadmill and squats. This combines everything. This creates symmetry within the body. Some people have done it up to five or six times because you can take the intensity out.
Will you check out their new DVD? What's your favorite workout? Tweet @OKMagazine and leave a comment below!