VIDEOS
Kate Gosselin Denies She's Racist After Photo Surfaces Of Her Allegedly 'Making Fun' Of Asians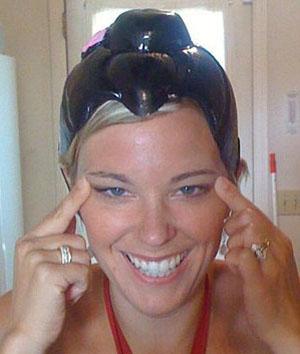 Kate Gosselin has angrily shot back at claims that she's a racist.
The accusations started after a photo was posted on-line of Kate supposedly mocking Asians.
In the picture the mom-of-eight is seen wearing a geisha-style headpiece and pulling the skin around her eyes sideways to make them look more slanted.
OK! News: Wife Swap Brings Kate Gosselin And Kendra Wilkinson To Tears
Kate went to her blog Tuesday to deny she is racist, to explain the context in which the photo was taken and to seemingly lay the blame for its mysterious release on her ex-husband, Jon Gosselin, who is second generation Korean-American.
Article continues below advertisement
"I married an Asian. I have eight biracial children therefore I'm quite certain that I'm the last person that could be called a racist," Kate wrote.
OK! News: What Makes Ben Affleck and Jennifer Garner's Marriage Work
"This was a happy memory of mine," she explained about the time the photo was taken. "It was a happy time for me and Jon, smiling and 'goofing off' together.
"Evidently, a fan sent the geisha headpiece for me to wear so that I too could 'be Asian' like the rest of my family.
"At that time, a common topic of our show was 'everybody's Asian' — except for mommy, so a thoughtful fan figured she'd help me look Asian too!"
OK! News: Kate Gosselin Signs Up For TV Dating Show
Gosselin explained the photo was taken by Jon himself who also posed in the headpiece for a pic, seemingly implying he was behind the photo being leaked, asserting t was, "opportunistically turned into something that it never was intended to be."
Article continues below advertisement
"Those photos taken on my phone were later uploaded to be saved on the home computer…..the same source of other private information that was taken and has since been made public, without my consent," she wrote.
The other private information Kate referred to turned up in a shocking tell-all book, Kate Gosselin: How She Fooled The World, which was pulled from sale two days after its release by order of Kate's attorneys.
Kate has announced she intends to sue the book's author, Robert Hoffman, along with her ex-husband, who she claims leaked inappropriately obtained confidential documents to Hoffman in an effort to smear her name.
Kate and Jon were married for ten years, they divorced in 2009.
Do you think Kate Gosselin is racist? Sound off in comments below and tweet us @OKMagazine