VIDEOS
'Love and Hip Hop Atlanta' Star Joseline Hernandez Talks Self-Confidence and Career Dreams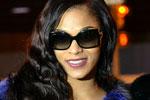 "It's like a soap opera, but it's real life."
That's how Joseline Hernandez describes her experience on Love and Hip Hop Atlanta in this OK! TV interview. And really, how can you pass up tuning into the show with a description like that? Because she can showcase her music on TV, the VH-1 show is a platform for her talent. Oh, the benefits of reality TV!
Article continues below advertisement
But Joseline says she hasn't always had confidence in herself. And, hey, that's kind of important when you're on national TV. She says that when she first appeared on TV, she noticed her insecurities. You fooled us, Joseline. We're actually kind of jealous of your sure-of-yourself attitude. Joseline also touches on her intimate relationship with Stevie (ready to watch yet?) and the other girls on the show.