VIDEOS
WATCH: Mariah Carey Suffers Wardrobe Malfunction During Opening Night At Caesars Palace!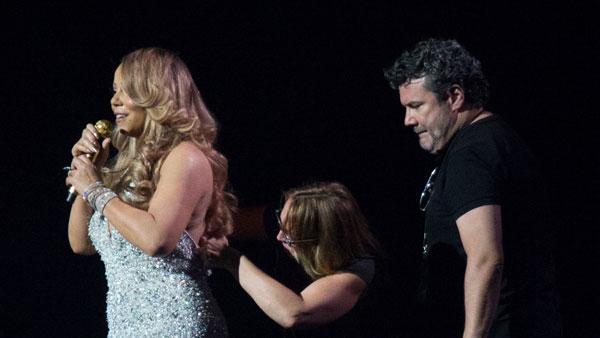 Mariah Carey had her debut at Caesars Palace this week, beginning her 2-year residency, but unfortunately, the night did not proceed without a hitch.
The 45-year-old, who belted out 18 of her hit songs over the decades, suffered a wardrobe malfunction! While wearing a sparkly and glamorous silver dress, the back became undone, and she required the help of two assistants who came onstage to lend helping hands.
Article continues below advertisement
PHOTOS: Mariah Carey Wardrobe Malfunction In Vegas
And though we are sure fans loved her 2-hour performance, everyone has not been so kind to Mariah, with the New York Times noting that "the struggle was real." Ouch.
"From the beginning of the night, she was tentative and inconsistent. She sang parts of several songs an octave lower than the recordings," they added, saying that Mariah "is in decline." Hopefully she didn't pick up the paper this morning.