VIDEOS
OK!'s Google+ Hangout Rewind: What Kind of Cereal Would Debby Be?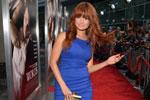 The OK! Google+ Hangout with Debby Ryan gave the OK! staff and all of Debby's fans a chance to learn more about the vibrant and super sweet singer/actress. Debby didn't disappoint and had answers for many of the fabulous questions that were submitted @OKMagazine.
Debby's interview wouldn't be complete without a random question being answered. Debby's random question came from Random Randyll @SLODTVDFan4ev, a fan that she totally knew and was familiar with. Random Randyll wanted to know what Debby would name a Debby-brand cereal. Is that a fun question or what?
Article continues below advertisement
Did you know that Debby is a cupcake lover? One of her fans obviously knew and asked Debby about her very favorite flavor. Debby couldn't narrow that yummy question down—it's totally dependent on the day and how she is feeling!
Watch this video to find out Debby's answers!
Stay tuned for more Google+ Hangouts from OK! We will be chatting with Brandi Glanville and Danielle Fishel and answering tons of Twitter questions.
What is your favorite type of cupcake? Is it Debby's favorite? Tweet us @OKMagazine and leave a comment below.