VIDEOS
OK!'s Google+ Hangout Rewind: What Will Debby Ryan's New Album Sound Like?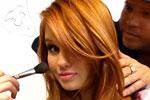 Today marks the first day of the OK! Google+ Hangout Week! We kicked off the celebrations with a super fun chat with Jessie star Debby Ryan. We'll be posting all of the must-see moments from our live chat and hoping you'll check them out. This girl is SO personable—it's hard not to love her!
In this video, you'll see watch Charissa ask Debby about the sounds and vibes of her new album. Charissa is the OK! winning fan who got to talk with the OKMagazine.com editors and Debby Ryan. Debby's description made it seem like the album is going to be an amazing mix of beats.
Article continues below advertisement
Don't forget that we have two more Google+ Hangouts this week.
On Wednesday, March 20th at 2 pm ET, join OK! and Brandi Glanville for a live Google+ Hangout. Make sure to tweet your Brandi questions to @OKMagazine with the hashtag #OKBrandiLive for the chance to have them answered during the chat.
On Friday, March 22nd at 12:30 pm ET, meet us on OKMagazine.com to watch the live Google+ Hangout with Danielle Fishel. Tweet in your questions to @OKMagazine with the hashtag #OKDanielleLive. You might just get your question answered!
Are to you excited for Debby's album? Will you participate in the Brandi Glanville and Danielle Fishel Google+ Hangouts? Tweet us @OKMagazine and leave a comment below.