VIDEOS
OK! Exclusive: WWE's Stephanie McMahon Talks Chief Brand Officer Role & If Her Daughters Will Take Over The Family Business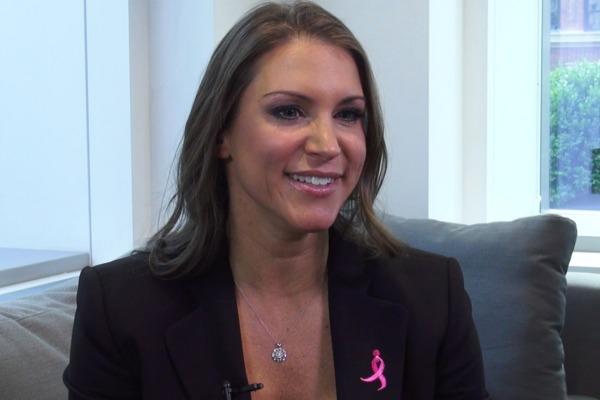 Viewers know Stephanie McMahon as the villainous daughter of CEO Vince McMahon who rules the WWE with her husband Triple H. Despite her power-abusing and tyrannical onscreen persona, viewers can't help but love to hate the so called Billion Dollar Princess. But how is McMahon outside of the ring?
McMahon exclusively opened to up OKMagazine.com about why she loves to play WWE's most power-hungry characters, her behind-the-scenes role and if her daughters will take over the family business.
Article continues below advertisement
"It's just so much more fun to me to be able to mess with the crowd in a fun way," McMahon said of playing the villain. "I love to bust chops and have fun with my friends and to do that on a massive scale with the audience is just really fun and it's what I find the most rewarding as a character."
In August, McMahon returned to the ring for the first time in almost 11 years when she battled it out with Total Divas star Brie Bella at SummerSlam. The long-awaited showdown, which was the result of a feud between the two, ended with McMahon on top.
OK! Exclusive: Stephanie McMahon Talks WWE's Latest Fight: Breast Cancer Awareness
Although McMahon knew she was going to take home the victory, performing at the same level as the Bella twin involved an intense amount of training.
"It was a huge challenge for me to wrestle Brie at SummerSlam," she said while promoting WWE and Susan G. Komen's breast cancer awareness campaign. "To get into the physical condition, to retrain my body in terms of how to actually execute the moves in the ring and just the mental challenge as well. But it was so rewarding for me."
Article continues below advertisement
From being active in the ring to Executive Vice President of Creative Development, McMahon has had multiple key roles with the WWE. But nothing compares to her current position as Chief Brand Officer.
"I have the opportunity to represent the WWE to all key constituents, whether it's government, whether it's key business leaders, media," she said. "I have the opportunity to share my passion with the world and to share really the evolution of WWE and who we are today which is this incredible PG brand where our mission is to make people smile."
OK! Exclusive: WWE's Stephanie McMahon Is Smacking Down Pediatric Cancer
A family business, McMahon works alongside her father Vince McMahon. Marrying WWE Superstar Triple H onscreen, McMahon and Paul Levesque, WWE's EVP of Talent, Live Events & Creative, also tied the knot in real life.
"While family business certainly has challenges, we have the opportunity to share a passion and to work together to make a vision come to life," she said of working with Levesque. "I can't think of a better way to bond as a family than that."
Article continues below advertisement
McMahon and Levesque have three daughters. With their oldest already following in her mother's footsteps through her enjoyment of playing villainous characters, can viewers expect them to make their own debut in the ring one day and carry on the family business?
"I hope that they will do two things in life: I hope that they will be happy first and foremost, and I hope that they have a very strong work ethic," she said. "Do what you love to do, that's the most important part, and if they love WWE, awesome."