VIDEOS
The Walking Dead's Scott Wilson Reveals: "Hershel Was Supposed to Go in Season One!"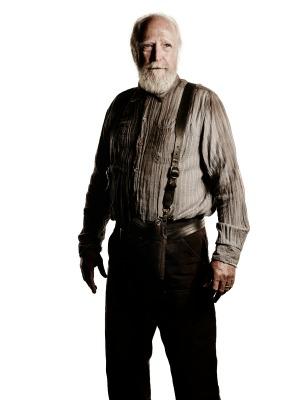 On a show like The Walking Dead, where it's all about survival, it's inevitable that the characters you love aren't guaranteed to well, survive. But it's safe to say that there wasn't one fan of the show who was prepared to say goodbye to the beloved father figure Hershel Greene, played by Scott Wilson. When Hershel died last season, the fans and the cast were shocked. But like Scott told us at the Savannah College of Art and Design (SCAD)'s aTVFest in Atlanta, "You don't live forever."
Article continues below advertisement
Watch: Emily Kinney and Sonequa Martin-Green Spill Secrets of The Walking Dead
In our revealing and open interview, Scott went on to tell OKMagazine.com that he was prepared to say goodbye to Hershel because the character was actually supposed to die in season one! "If you gave to go, I think I went out right but I would rather be there on set," he told us. "I enjoyed Hershel and how he evolved. It was a very interesting progression."
Watch: The Cast of HBO's Looking Talks Their Undeniable Chemistry
Scott talked about how much he appreciates the outpouring of fan support—but he's not on social media to check out any of the fan sites that he hears are popping up on Facebook.
"I feel like I'm at my own funeral but I'm glad I made an impression on people—it's a validation of my work," he says.
Watch the video above to find out more from Scott—and whether or not he plans to keep on watching The Walking Dead!