VIDEOS
Video: MTV's Nikki and Sara Talk About the ONE Thing That Matters This Awards Season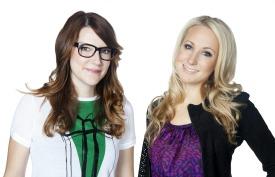 OK! sat down with MTV hosts Nikki Glaser and Sara Schaefer to get their thoughts on awards season, but there was only one thing they wanted to talk about: Jennifer Lawrence.
Like all of us, Nikki and Sara also have a total girl crush on The Hunger Games star. Watch the video to find out why and what skill they want to teach her.
MTV's Nikki and Sara LIVE airs tonight (Tuesday) at 11 p.m. Eastern.
Is Jennifer Lawrence the highlight of awards season for you too? Tell us in the comments below or on Twitter @OKMagazine
Article continues below advertisement