VIDEOS
Who Knew?! Guess Which Actress Was the Inspiration Behind Disney's Ariel in 'The Little Mermaid'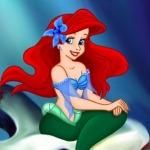 If Ariel from Disney's The Little Mermaid looks familiar, there's a good reason why!
Alyssa Milano confessed on The Wendy Williams Show that she was the inspiration behind the character in the animated movie that hit theaters back in 1989.
Watch: Former Disney Star Christina Aguilera Drops 20 lbs—See How She Did It
"I actually was, yeah! Which I didn't know when it was going on!" Alyssa confirmed to Wendy Williams when asked if Ariel's looks were modeled after her. "I didn't know that when it was going on. But they asked me to host The Making of The Little Mermaid, and it came out there that the drawing and likeness of the little mermaid was based on pictures of me from when I was younger."
Article continues below advertisement
"Yes," answered Alyssa. "That's how I walk around at home!"
Do Alyssa and Ariel look that much alike? Tell us what you think in the comments section or on Twitter @OKMagazine.