NEWS
Adam Lambert Preps His Glampire Fangs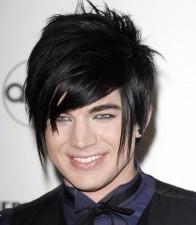 Oct. 13 2009, Published 1:00 p.m. ET
View all comments
Adam Lambert knows a popular trend when he sees one, so it's no wonder he's taking the popularity of vampire movies and shows and turning it into a very Glambert-esque Halloween costume! "I think I'm going to be a glampire," he told reporters at the American Music Awards press conference this morning at the Beverly Hills Hotel.
Wait, a what?
"You know, a vampire who glams it up!"
Obviously!
Besides making time for his Halloween planning, Adam's been busy with his new, still untitled, album. On the new record, Adam says he collaborated with Linda Perry, Craig Wells, Ryan Tedder and more. But there are even more people he wants to work with.
Article continues below advertisement
"The thing about this album is because it's a fast process, we've really just had to dive right in and I haven't been able to spend a lot of time reaching out and experimenting with other artists," he tells OK! of his desire to work with more people. "Hopefully in the future, though!"
The AMA press conference also reunited Adam with former American Idol judge Paula Abdul, whom he says he's been keeping in touch with.
"Interesting, today was the first day that we've actually been in the same room together, though," he adds to OK!.
As for her replacement on AI, Adam is definitely a fan of Ellen DeGeneres.
"I think Ellen will be great!" he gushed to OK!. "I think Ellen will provide, like, a perspective that's slightly different - a non-music industry perspective which is important because the audience aren't music industry people. The audience is the regular person."