Archive
Giuliana & Bill Rancic Talk Fashion Police Rumors, Baby & Health Updates, & NESCAFÉ's New Product With OK!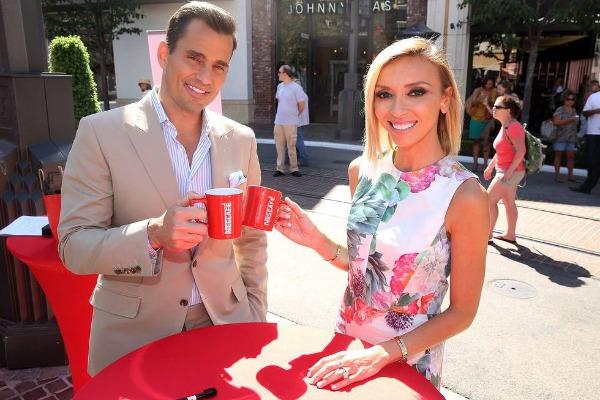 Giuliana and Bill Rancic are always on the go. From managing successful careers to raising their 2-year-old son Duke, we can't help but ask, "how they do it?!"
The stars of Giuliana and Bill exclusively sat down with OK! to answer that question, to discuss Fashion Police rumors, and to give readers an update on Giuliana's health and when the couple will be welcoming baby No. 2.
OK!: What is a typical morning like in the Rancic house? Why have you guys turned to NESCAFÉ to help kick off your day?
Article continues below advertisement
Giuliana Rancic: Our morning starts pretty early. We get up 15 minutes before Duke does so we have a little time together as husband and wife to just hang out. NESCAFÉ just came out with a brand new product... it's coffee and creamer in one. All you do is literally put two tablespoons of this coffee in a mug, add hot water and bam, you're done… It's not only delicious, but it saves up even more time in the morning to not have to make coffee and just be able to hang out with each other and start the day off on one foot.
Article continues below advertisement
Bill Rancic: Right now we're taking a little break. We hope soon we'll be able to give Duke a little brother or sister, but right now we're just kind of taking a break, getting everything situated. Down the road we'll see what happens. If God grants us that, it will be meant to be.
OK!: You have been such an inspiration for people undergoing cancer treatments. Could you give us an update on your health?
Giuliana Rancic: I'm happy to report I'm great, which is wonderful. We're approaching breast cancer awareness month and so I'm going to be doing a lot of work for my charity Fab-U-Wish that we created. I grant fabulous-themed wishes to women going through breast cancer treatment. We recently teamed up with another charity from New York… The Pink Agenda. We have teamed up to not only raise money to fund research and find a cure, but to also grant wishes. I'll be doing a lot of work for Fab-U-Wish this month, but trying to give back and I'm lucky enough to be doing well.
Article continues below advertisement
OK!: There are tons of rumors out there that NeNe Leakes and Kathy Griffin will be joining Fashion Police. Can you set the record straight?
Giuliana Rancic: As far as I know, no decisions have been made at all. We're just happy that Melissa Rivers gave her blessing and that the E! executives are working long and hard to make sure that the best show comes out in January because it's what Joan would have wanted. But I am on top of it and I know that they're just looking at the different scenarios, but as of today no decisions have been made at all, no one has been confirmed. The rumors are rumors right now.
PHOTOS: #FirstFriday: When Giuliana Rancic FIRST Burst Onto The Scene
OK!: Is there anyone you would like to see join the show?
Giuliana Rancic: No, honestly. They have a really tough job ahead of them... We shall see, but I have to be honest, I could never make that decision. The E! people definitely have their work cut out for them. But I know in the end they'll make the right decision and it will be the best show it can possibly be.
Article continues below advertisement
OK!: Can you give our readers tips on how to have a successful career while making sure their family is always first?
Bill Rancic: That's our rule in the house: family first. It's a rule that we don't negotiate and we don't compromise. We try to make the most out of our days. The night before, we make a list of what we need to do the next day so we are more efficient rather than trying to play catch up. When we wake up in the morning we know exactly what we have to do.
OK!: Do you have any other upcoming projects you guys are working on?
Giuliana Rancic: I have a new line coming out November 3rd called XO,G Wine. It's four individual cups make up a bottle, it's for the girl on the go. It's affordable and it's convenient. It's priced incredibly well. It's under $10 at Walmart, which is great everyone could get it.