NEWS
Red Carpet Confidential: Why Giuliana Rancic Likes to "Splurge More" After Her Breast Cancer Diagnosis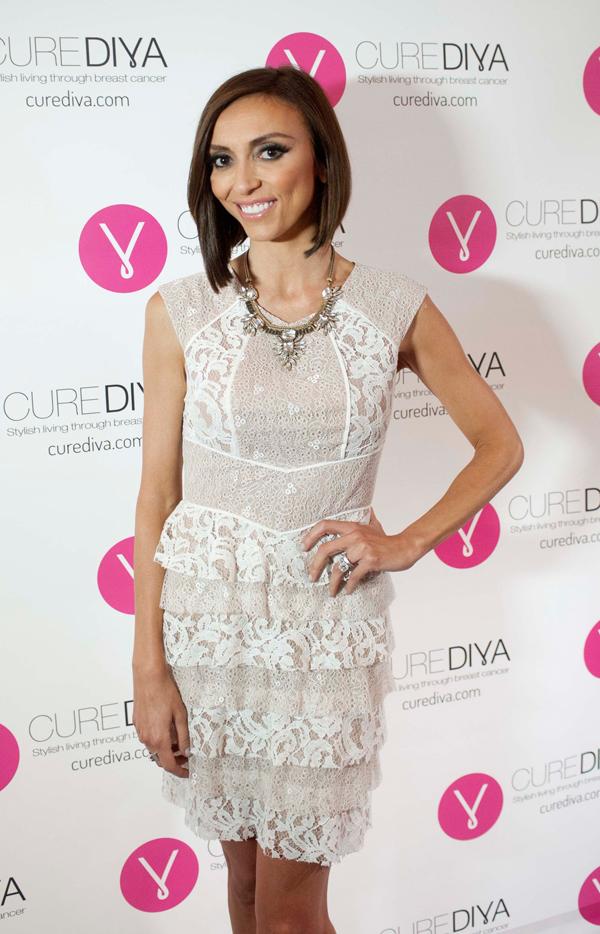 Giuliana Rancic is savoring time spent with their 13-month-old son Duke.
"It's great," the E! host and reality star, 38, who is married to Apprentice winner Bill Rancic, tells me Thursday during the launch luncheon for breast cancer website CureDiva.com held at Bryant Park Hotel in NYC.
OK! Exclusive: Are Giuliana and Bill Ready for Baby Number 2?
"The baby just took his first steps. We got it on video, which is incredible. We saw that he was going to do it, and our nephew was like 'I can make him do it,' and I was like 'no, you can't.' And then he does it!"
Article continues below advertisement
It's because of Giuliana's struggle to have Duke that she learned she had the disease two years ago. Despite being 36 and having no family history of breast cancer, her infertility specialist insisted she go for a mammogram before her third round of IVF.
"I thought that was odd," she says. "I'm just trying to get pregnant. And he said 'that's the point. I don't want to get you pregnant if you have breast cancer. I don't want all the hormones of the pregnancy to fuel the cancer.' I said 'fine, I'll do it,' so I went to get a mammogram."
OK! Exclusive: How Did Giuliana Rancic Celebrate Duke's First Birthday?
She continues, "A few weeks later, I found out I had it. It was the shock of a lifetime. It turns your world upside down."
In December, it will be two years since she underwent a double mastectomy.
Now, hubby Bill teases that Duke can use his role in her diagnosis as leverage to evade punishment.
"Duke is incredible," she tells me. "He's the best baby. Bill jokes that he's got me for the rest of his life in the sense that anytime I try to put him in a 'time-out,' he's gonna go 'I saved your life, mom.'"
Article continues below advertisement
She adds, "Sadly, he's got a reality show Giuliana & Bill that will prove that to him, with me going in and basically finding the breast cancer because of wanting to have him. "
Photos: Celebs Wearing Pink for Breast Cancer Awareness
Naturally, Giuliana's cancer diagnosis changed her priorities.
"I'm not in the gym 5-7 days a week like I used to be," she says. "I'm not as diligent with my diet, because you go one of two ways when you get diagnosed. You either go 'OK, I'm changing my diet.' Mine was clean. When I got diagnosed, I went "that sucks. I was eating well, I was working out – I'm going to order a burger now!'"
MORE ON:
Red Carpet Confidential
She continues, "I'm a healthy eater, I splurge more, and I spend 1-2 days in the gym. I still live a healthy lifestyle and take care of myself, but I realize now that life is short, and life is precious."
Why has she let up on her wellness routine?
"I can't think about the gym every day. I'd rather be with my husband instead, or my baby, because there's nothing scarier than thinking you're going to lose them."
OK! News: The Latest Scoop on the Jenners' Separation
She adds, "Life's better now. I wouldn't do it all over again, though. It's funny how life works. Maybe it was meant to happen for many reasons, because my life in many ways is richer."
Here's a pic of Giuliana and I post-event. She's always fab!
Check out CureDiva.com which offers support to women who battle cancer, and catch Giuliana & Bill when it moves to E! starting this Tuesday, October 15 at 10 pm ET! Does Giuliana inspire you? How cute is baby Duke?! Tweet us @OKMagazine.