Archive
Kate Winslet Dishes On Why She Never Dated Leonardo DiCaprio to Marie Claire: 'He Always Saw Me As One Of The Boys'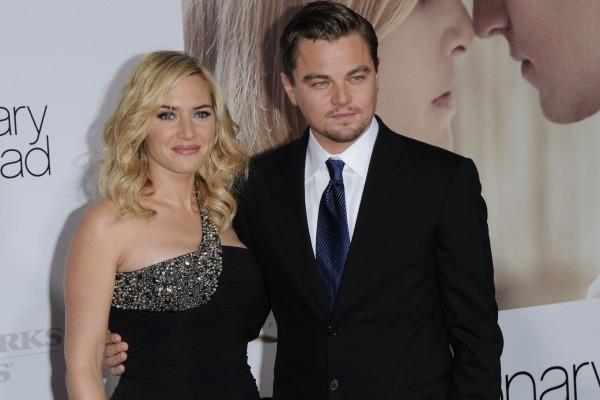 In a recent interview with Marie Claire, Kate Winslet explained why her friendship with Leonardo DiCaprio never turned into something more.
"I think the reason that friendship works is because there was never any romantic thing," the actress told the magazine's November issue. "It's so disappointing for people to hear that, because in the soap opera of the Kate and Leo story we fell in love at first sight and had a million snogs, but actually we never did."
Article continues below advertisement
PHOTOS: So Sexy Couples: The 5 Hottest Romances in Hollywood!
The actors starred in 1997's Titanic and 2008's Revolutionary Road. From their onscreen passion to their off-screen bond, the actors formed a close friendship. He even walked Winslet down the aisle at her 2012 wedding to Ned Rocknroll!
"He always saw me as one of the boys," she continued. "I've never really been a girly-girl. We needed each other to lean on because we were very young and working all kinds of crazy bloody hours and it was a shock to the system."
Womp.
But regardless of her interview, OK! is still thinking, never say never! Check out three reasons why we believe the duo is made for each other:
PHOTOS: Celeb Couples Who Dated Long After Working Together
Their Onscreen Chemistry. Sure, both films had a tragic ending, but their passion onscreen is undeniable:
MORE ON:
leonardo dicaprio
youtube=https://www.youtube.com/watch?v=RSEMLDUOqe4&w=560&h=315
They Always Speak So Highly Of Each Other. During Winslet's 2009 Golden Globes Speech for her performance in Revolutionary Road, she said, "Leo, I'm so happy I can stand here and tell you how much I love you and how much I've loved your for thirteen years! I love you with all my heart, I really do." The actor responded to this two-time costar with kisses from the audience.
During a 2013 interview, DiCaprio said of Winslet, "We laugh at the same things. She never lets me take myself seriously, even if I wanted to. We have a special magic."
They Look Perfect Together. Seriously, look at this swoon-worthy photo: