Archive
Will LeAnn and Eddie's "Very Healthy" Sex Life Mean Kids Of Their Own Soon?
LeAnn and Eddie: Our Side of the Story
They're a celebrity couple born from scandal. Both LeAnn Rimes, 31, and Eddie Cibrian, 41, were married to other people when they began a torrid affair on the set of the made-for-TV movie Northern Lights in 2009. But, despite the fact that they've been happily married since 2011, gossip still follows their every move, especially about the drama surrounding Eddie's ex Brandi Glanville, the mother of his sons, Mason, 11, and Jake, 7. How are they dealing with the rumors now? By starring in a new reality show, LeAnn & Eddie, which follows their surprisingly conventional marriage in the midst of often stormy circumstances. The pair sat down with OK! to discuss the show and their plans to expand their family.
Article continues below advertisement
PHOTOS: 29 sexy photos of celebs in the bath
OK!: Why do a reality show when you're already under such scrutiny?

Eddie Cibrian: We wanted to work with each other again, and with all of the crazy sensationalized stories about us, people have only heard one side of things. We wanted to poke fun at all the drama and show how we deal with it. We read some of these articles and...
LeAnn Rimes: It's comical.
EC: Yeah. We wanted to give the audience a glance at who we are as a couple, why we really are in love. It's not a sham — there's real substance between us.
OK!: What's the key to making your marriage work?

LR: We have gone through hell and back to be together and blend a family. Those sort of things are not easy. It takes a commitment. We've gone to therapy to learn how to communicate better because we don't want to screw with the kids. It has made us better and our marriage stronger.
Article continues below advertisement
EC: We have a real respect for each other — and I think that, and the ability to laugh, goes a long way.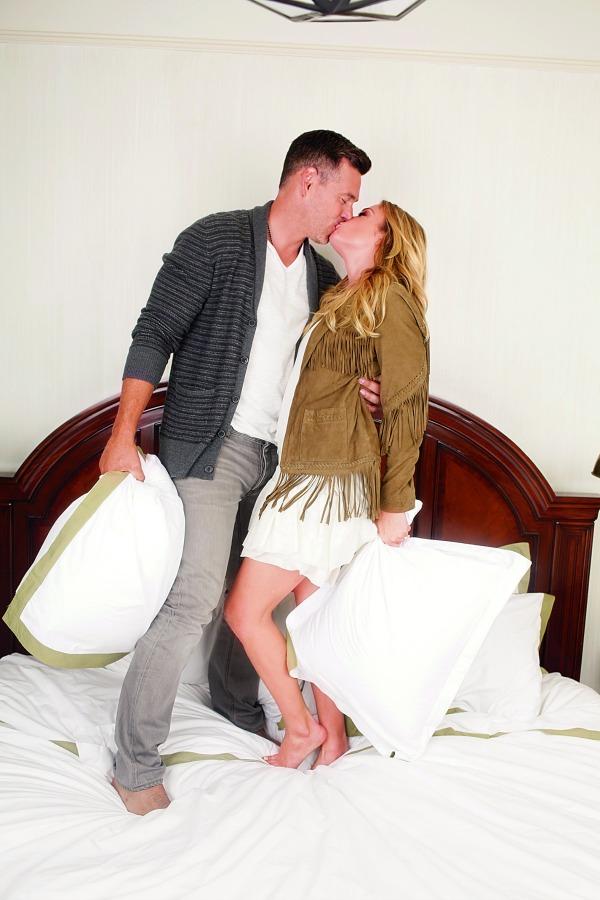 OK!: On the show you're candid about your sex life. How is it right now?

EC: Oh, it's very healthy. Very healthy.
LR: We keep it interesting. It's so weird to talk about my sex life... my mom is going to be reading this! I think it's awesome. After this many years, I'm still enjoying it, so it's very good!
OK! News: Details on J.Lo and Maksim's secret sexy hookups!
OK!: Are you trying for more kids?
LR: Well, our sex life is great, so maybe it'll happen soon!
EC: It's definitely in our future.
OK!: How many kids do you want to have?
LR: One more.
EC: That's it? Just one?
LR: Just one. See, now it's going to be, "LeAnn doesn't want any more than one child!"
EC: "And Eddie wants five."
OK!: Do you think you will ever call a truce with Brandi?
Article continues below advertisement

LR: That's really up to her.
EC: There really isn't a feud. It is coming from one camp. But we have made an effort to keep our mouths shut and not air anything publicly.
OK!: Does she still get child support?
EC: Every month
LR: He would go to jail. That's what people don't realize, it's illegal to not pay it.
OK! News: These sports moments are going to make you feel old
OK!: LeAnn, you've been touring while Eddie stays home with the kids. How do you split your finances?

LR: We support each other in many ways. Eddie has made sacrifices to be at home with his kids. When he did The Playboy Club, he'd fly home for 24 hours to see the kids, and their grades were dropping and they weren't making it to school on time. So to see him take the backseat on his career to make sure they're safe and happy is amazing. He's turned down a lot of work.
EC: The most important role I have is being a great father. And collectively we have so much money, we don't even ever have to worry about it!
LeAnn and Eddie airs every Thursday on VH1 at 10:30 p.m. ET.
Do you think Eddie and LeAnn are unfairly portrayed? Do you think they make a cute couple? Tell us in the comments below or on Twitter @OKMagazine.