Archive
New Tunes Tues: Adam Levine and Gwen Stefani's Epic Collaboration and More Music This Week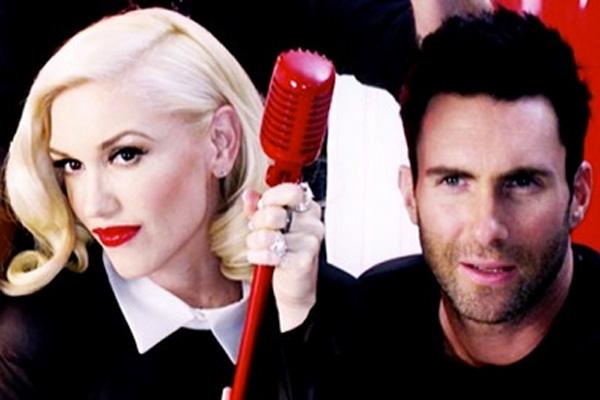 Welcome to New Tunes Tues, where we tell you what newly released songs/albums/music videos etc require your attention immediately. This week, lend an ear to a super sultry collaboration between The Voice's judges, watch yet another new Nicki Minaj music video, and more! It's all here:
PHOTOS: Nicki Minaj's Most Naked Instagrams
Maroon 5 ft. Gwen Stefani, "My Heart is Open." He did it with Christina—it makes sense that he's doing it with Gwen, too! Adam Levine has teamed up with Gwen Stefani, his newest Voice co-judge, for this track off Maroon 5's new album, V, out today. This is probably not what you'd expect from this upbeat-centric duo, but this melodic love song is still pretty darn impressive:
Article continues below advertisement
youtube=https://www.youtube.com/watch?v=DDbzfEHqEZo&w=640&h=390
OK! Exclusive: Watch Andy Grammer's Acoustic Performance of "Forever"
Usher ft. Nicki Minaj, "She Came To Give It To You." Granted, Usher's new video ft. Nicki Minaj is not quite as um, risque, as the "Anaconda" video is, mainly because all parties involved are wearing clothing this time. However, it's still pretty sexy, especially when Usher glides across the floor with those sick moves. Watch:
youtube=https://www.youtube.com/watch?v=U-93LzZM1y0&w=640&h=390
OK! News: Iggy Azalea Is Actually Really Good at Basketball
Mary Lambert, "Heart On My Sleeve." Remember Mary, who sung the chorus on Mackelmore & Ryan Lewis' award-winning song, "Same Love?" Now she's got her very own tracks including this one, the lead single off her debut album out this October. Mary's pretty good as a soloist, don'tcha think?
Article continues below advertisement
youtube=https://www.youtube.com/watch?v=KY5WNzyvcjY&w=640&h=360
OK! News: The Adorable Way Carrie Underwood Announced Her Pregnancy
Adele, "You'll Never See Me Again" and "Never Gonna Leave You." And if Mary Lambert kinda reminds you of Adele, you're not totally off there. Speaking of Adele, two unreleased songs from her Grammy-winning album, 21, have leaked on the internet, and they're no "Rolling In The Deep." However, it's kinda refreshing to hear some new Adele stuff even though these tracks were technically recorded in 2010. Take a listen before they're taken down! Quick!
OK! Exclusive: Nick Jonas Discusses His Upcoming Solo Album
Katy Perry, "This Is How We Do" remix. And finally, mourn the end of summer with a Katy Perry song that's more party-esque than all other Katy Perry songs! KP released a new EDM dance remix for her new single, "This Is How We Do." It sounds like an entirely different song, using just the words from the chorus in the new version, but that's what remixes are, we guess?