BABIES
Bella Hadid Gushes Over Sister Gigi Hadid's Pregnancy: 'Can't Stop Crying'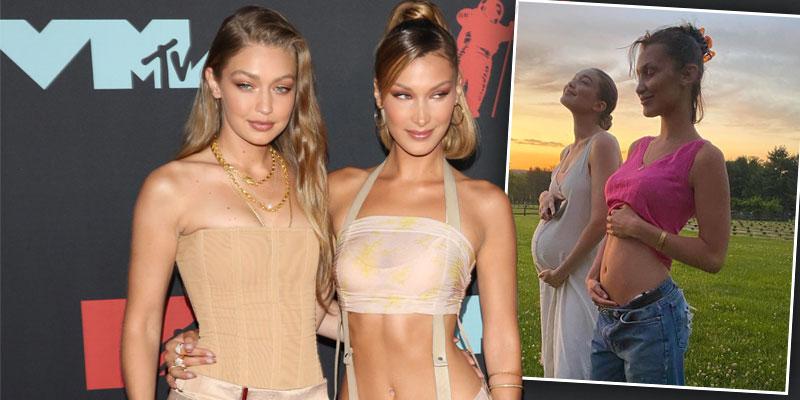 Sister love! Bella Hadid couldn't help but gush over Gigi Hadid's growing baby bump. "June 11, 2020 … two buns in the oven except mine is from my burger and Gigi's is from @zayn," the model, 23, captioned a snapshot of herself alongside Gigi, 25. "I love you both so freaking much — can't stop crying."
In the snapshot, Bella wore a pink tank top with loose-fitting jeans, while Gigi glowed in a comfortable dress, and they both showed off their stomachs. The soon-to-be mama shared several smiling emojis and one angel emoji in the comments section. "Aww nothing like sisters love!" Gisele Bündchen wrote, while Lily Aldridge added, "Love you cuties so much."
Article continues below advertisement
"Cherishing this time. Appreciate all the love & well wishes," she gushed. "Will never forget creating these special images with my friends @luigiandiango @gabriellak_j @erinparsonsmakeup thank you. I love you!"
In April, Gigi — who has been in an off-again, on-again relationship with the former One Direction singer since 2015 — confirmed to Jimmy Fallon that she is going to be a mama. "Obviously, we wish we could've announced it on our own terms, but we're very excited and happy and grateful for everyone's well-wishes and support," she admitted.
Article continues below advertisement
10 SUPERMODELS WHO FOLLOWED THEIR FAMOUS MOMS DOWN THE CATWALK
Bella isn't the only one who is looking forward to adding another member to the Hadid family — her mom, Yolanda Hadid, is also "so excited" for her oldest child to have a daughter of her own. "I am excited to become Oma in September especially after I lost my mom recently," she told the Dutch show RTL Boulevard in April. "But this is the beauty of life; one soul leaves us and a new one comes in. We feel very blessed."
With Gigi's due date nearing, it's safe to say the family is prepping as much as they can. We can't wait to meet Gigi's little angel!