BABIES
Gigi Hadid Reflects On Modeling At Photo Shoot While Pregnant: 'Was Definitely More Tiring'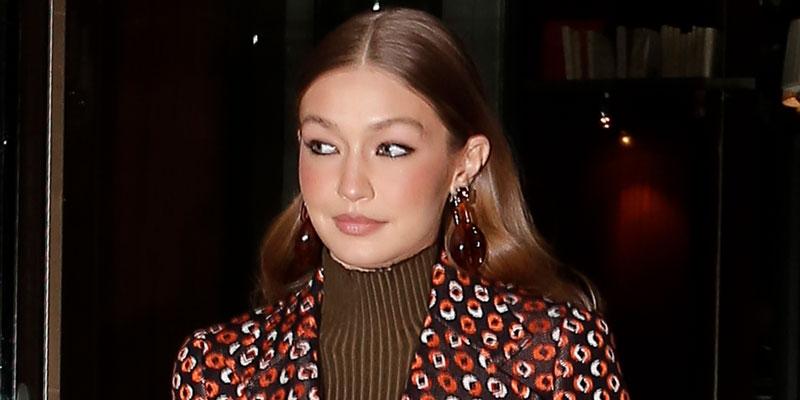 Honesty hour! Pregnant Gigi Hadid got candid with her fans after her photo shoot, which she posted to Instagram on August 26. One fan asked, "@GiGiHadid how was shooting with your baby bump for the first time?" via Twitter on August 27.
"I loved it, I knew what I wanted from the pics and Gab and L&I really made it happen for me. But was definitely more tiring than working normally. Got through the second look and was like 'Guys I think I can only do two more.' Hahaaaa."
Article continues below advertisement
Of course, fans messaged the 25-year-old with lots of well-wishes. One person wrote, "We're sending much love and health for our baby, so excited for this," while another echoed, "I'm so excited for you and Zayn and can't wait to see the baby and know her name." A third user added, "You looked so gggoooodddd!!! And the photographers did such a great job as well."
10 SUPERMODELS WHO FOLLOWED THEIR FAMOUS MOMS DOWN THE CATWALK
The model finally gave her followers a look at her expanding belly on social media by sharing several black-and-white photos of herself cradling her bump in a couple of flowy dresses. "Growin an angel," she captioned the first photo. "7.26.20," she wrote on the second snap, which was taken by photographers Luigi & Iango.
Clearly, the blonde beauty — who is expecting her first baby with her boyfriend, Zayn Malik — is over the moon about this new chapter in her life. "Cherishing this time. Appreciate all the love & well wishes," she gushed. "Will never forget creating these special images with my friends @luigiandiango @gabriellak_j @erinparsonsmakeup thank you. I love you!"
MORE ON:
celeb pregnancies
Article continues below advertisement
Since then, the catwalk queen hasn't shared many baby bump updates on social media, leaving fans wondering why she was being so mysterious about this important milestone. "I think a lot of people are confused why I'm not sharing more, but like, I'm pregnant through a pandemic," she said. "Like, obviously my pregnancy is not the most important thing going on in the world."
"That's a reason that I've felt that it's not really something that I need to share, apart from with my family and friends," she continued. "Obviously a lot of people have lost lives due to coronavirus — that was in the beginning of quarantine and still happening. And then we moved obviously into the re-emergence of the Black Lives Matter movement, and I thought our presence on social media should be used for that."
Article continues below advertisement
16 CELEBRITIES WHO SWEAR THEY CAN COOK A MEAN MEAL
However, Hadid mentioned she has "been taking a lot of pictures of my bump and sending it to my friends and family" during this time. "It's been really cute and exciting, and I'm trying to document it well because I've heard a lot of people say, 'Obviously, make sure you don't miss it.' And I will be sharing stuff like that in the future."
For now, the couple is eagerly awaiting the arrival of their daughter in their New York City apartment. "Things are going really smoothly and they are closer as a couple more than ever," an insider told E! News.
One thing is for sure: Hadid and Malik are going to be the best parents.