BABIES
Brie Bella And Nikki Bella Show Off Postpartum Bodies 1 Month After Giving Birth: 'A Magical Time'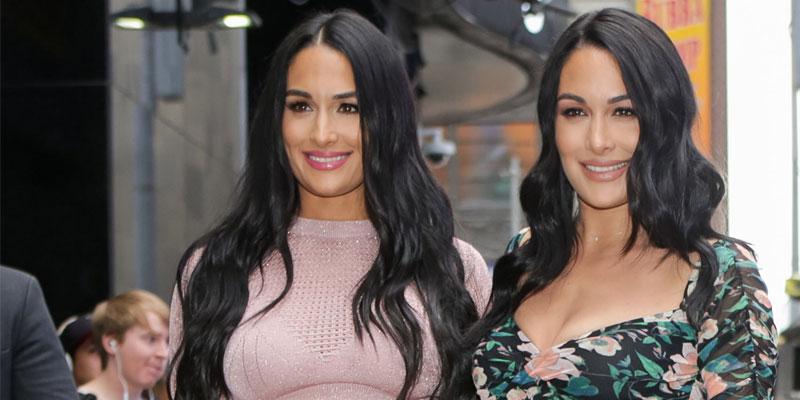 Get it, mamas! Nikki Bella and Brie Bella flaunted their post-partum bodies on social media — just one month after the twins welcomed their sons into the world.
Brie, 36, shared a photo of herself wearing a black bra with gray biker shorts while she was on her bed on August 27. "It's been such a magical time," the reality star — who shares son Buddy Dessert with her husband, Daniel Bryan — said. "After giving birth it's essential to take care of yourself so you can take care of the new love in your life too! Recovery the second time around has been so different in a good way because I was way more prepared — thanks to @fridamom and especially their super comfortable and durable underwear for my C-section scar. Let's be proud of our bodies and be open and honest about the process so future moms can feel more prepared too! #fridapartner."
Article continues below advertisement
HERE'S WHY NIKKI BELLA DOESN'T WANT TO WEAR HER ENGAGEMENT RING FROM FIANCÉ ARTEM CHIGVINTSEV
Meanwhile, Nikki, 36, uploaded a snap of herself wearing shorts and a tank top in her bedroom. "I am so incredibly happy to finally be a Mama!" the E! personality — who shares son Matteo Artemovich Chigvintsev with her fiancé, Artem Chigvintsev — wrote.
"It's so important as mamas to take care of ourselves after birth and feel proud of our bodies and its strengths!" she continued. "Thank you so much @fridamom for your amazing postpartum underwear! Keeping this first-time mom as comfortable as possible and I didn't have to steal the fishnet undies from the hospital! Lol."
Article continues below advertisement
"That's what happens when you're on an infant schedule," Brie added. "But like Nikki said, the love is just so empowering that even though you're so tired, that bliss just takes over."
WWE STARS NIKKI & BRIE BELLA DAZZLE AT COUTURE COUNCIL AWARDS LUNCHEON
Even though the little boys aren't twins, "they both have the same scream-cry," Nikki noted. "It's the cutest high-pitch noise and they're identical," she continued. "Even their coos are identical and they're so cute. Now, Mateo, he will grunt and like punch my boobs when he's breastfeeding. Artem and I will sit and laugh because it's perfect little punches he'll do. He grunts at me, so I feel like I have a little boxer on my hands."
"Both babies are calm and patient," Brie, who is also mom to daughter Birdie, 3, added. "We're the wild ones and very feisty. Our little boys don't have our personalities yet. Birdie does. Birdie is our mini."
We can't wait to see the Bella boys grow up!