BABIES
Hugh Hefner's Son Cooper Hefner And Wife Scarlett Byrne Welcome Baby No. 1: 'We Couldn't Be Happier'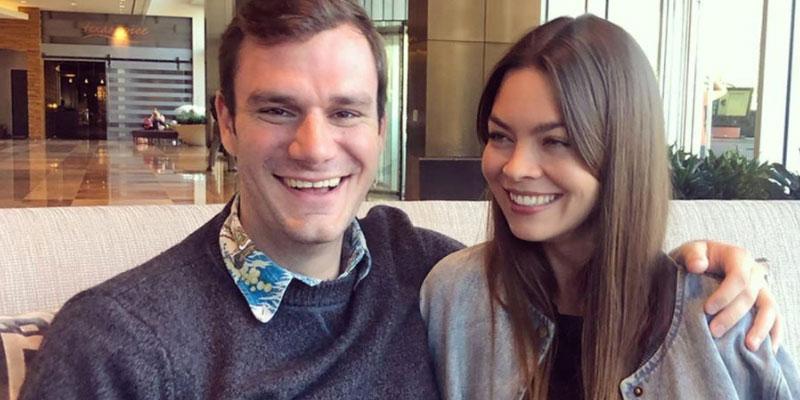 Congrats! Hugh Hefner's son Cooper Hefner and his wife, Scarlett Byrne, welcomed their first child into the world — a baby girl! — on Monday, August 24, at 5:23 p.m. The newborn weighed 6 pounds, 5 ounces.
"We are overwhelmed with joy to share that our daughter, Betsy Rose Hefner, has arrived," Cooper, 28, told E! News in a statement. "We look forward to being home and spending time together as a family in the days and weeks ahead."
Article continues below advertisement
JOE JONAS AND SOPHIE TURNER'S FIRST BLISSFUL DAYS AS PARENTS
"Scarlett and I are filled with such joy," he added. "We couldn't be happier."
The couple chose the cute moniker after Hefner's grandmother, Betsy-Aldridge-Conrad, who died in July 2020. "My grandmother meant the world to both Scarlett and I," he explained.
The businessman also took to Instagram to share the good news with his followers. "At 5:23 p.m. this afternoon Scarlett and I welcomed our daughter Betsy Rose Hefner into the world," he captioned a slew of photos of himself with their new bundle of joy at the hospital in Los Angeles. "We are overwhelmed with gratitude, love and joy."
Of course, Hefner's fans couldn't help but comment on the exciting milestone. Kendra Wilkinson — who was one of Hugh's live-in girlfriends at the Playboy mansion until 2009 — wrote, "Congrats to you all. She's beautiful. Welcome to the world Betsy!!," while Jessica Hall added, "Oh my goodness she's absolutely perfect." Actress Tessa Netting chimed in, writing, "OH MY GOSH!!! CONGRATS AHHHHH LOOK AT THAT LITTLE ONE!!!"
Article continues below advertisement
The lovebirds were dating for quite a while before the Playboy heir proposed to the Harry Potter star, 29, in 2015. At the time, Hugh — who died in September 2017 — approved of his son's decision to get down on one knee. "Sending love and congratulations to my son Cooper and his fiancée Scarlett on their engagement!" the now-late Playboy founder tweeted at the time.
Four years later, the duo tied the knot in California. "I love you Cooper. I am proud to stand by your side, as your partner, your friend and your wife. I cannot wait to continue building a life together," The Vampire Diaries alum wrote following their nuptials.