COUPLES
Jana Kramer Reveals Marriage Struggles With Mike Caussin, Calls Herself a 'Fraud'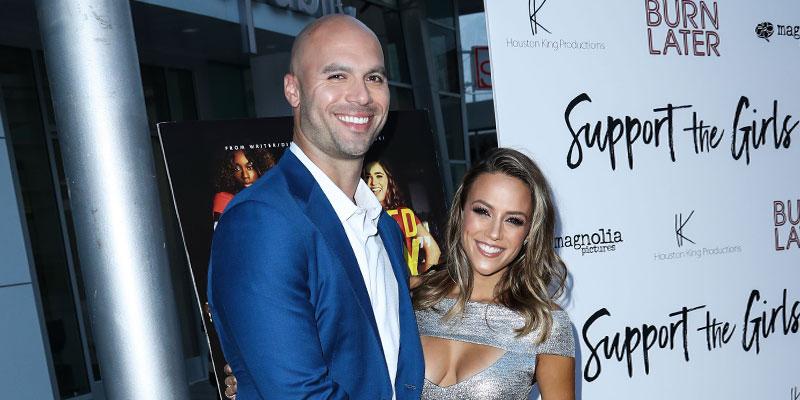 Marriage has its ups and downs, and Jana Kramer has admitted that of late, her relationship with Mike Caussin has been turbulent — to say the least.
According to Us Weekly, the pair confessed they struggle to make their relationship work on the Monday, September 21, episode of the couple's Whine Down podcast.
With the release of their book, The Good Fight, Kramer is worried she will come across as a "fraud" as she and the 33-year-old former NFL star continue to overcome the difficulties in their relationship.
Article continues below advertisement
JANA KRAMER'S HUSBAND MIKE CAUSSIN ADMITS HE 'BROKE BOUNDARIES' AMID BREAKUP RUMORS
In fact, when a recent date night with Caussin went awry, the 'I Got the Boy' singer posted on Instagram about how the day "sucked." Her former One Tree Hill costar Hilarie Burton reached out to her because she was concerned.
Kramer explained: "She texted me and was like 'Hey, are you good? I saw your post.' And I was like, 'Yeah, it was just a really crappy day. We didn't do things right in front of the kids and we argued, and that was sitting really heavy with me'. And I said 'We've got this book coming out and I feel like kind of a fraud. How can I be saying to do this when I didn't do it right the other day and he didn't do it right the other day.'"
She added: "So that's where, like, I'm nervous because I feel sometimes … I'm like a fraud in a sense. Hilarie affirmed that she was like, 'I felt the same thing right before my book The Rural Diaries came out.' And she was like, 'How am I saying to be positive and to be happy when I'm depressed because of the pandemic and this and the anxiety?' So it was just nice to have a conversation with someone that understands."
Article continues below advertisement
Kramer and Caussin have been married since 2015. They share daughter Jolie, 4, and son Jace, 22 months. But their relationship has been shaken to its core with Caussin's infidelity and his sex addiction battle.
JANA KRAMER DETAILS MOMENT SHE FOUND WOMAN'S TOPLESS PHOTO ON HER HUSBAND MIKE CAUSSIN'S PHONE
"I actually wanted to work on it, 'cause he had effed up in the very beginning … even when we were dating," she revealed in April 2019. "And if he didn't actually really want to work on it, he could have easily been like, 'Yeah, whatever, next.' And I could have too."
Kramer noted how it's "so easy to get divorced nowadays" before adding: "You have to work at it. It's hard. It sucks. Some days, it literally sucks."
The Good Fight hits shelves on Tuesday, September 22.