COUPLES
Miley Cyrus Details Her 'Very Public Divorce' From Liam Hemsworth: 'That F--king Sucked'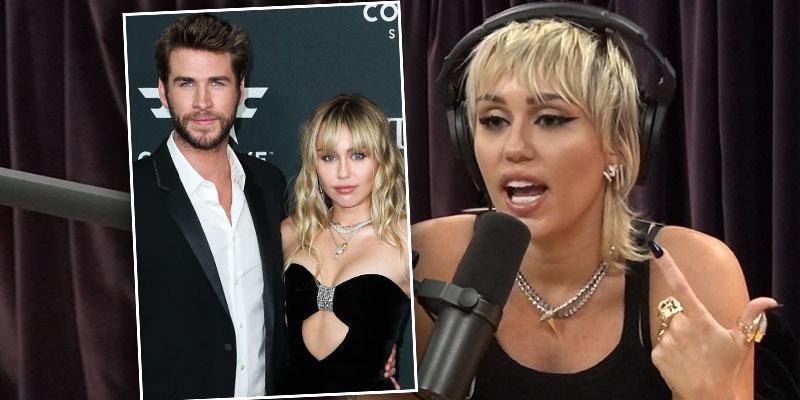 Not holding back! Miley Cyrus got candid about her 2019 split from Liam Hemsworth on Wednesday, September 2, during the "Joe Rogan Experience" podcast. "I recently went through a very public divorce that f--king sucked," the 27-year-old admitted. "What really sucked about it wasn't the fact that me and someone that I loved realized that we don't love each other the way that we used to anymore."
However, the pop star made it clear that the former flames didn't decide to call it quits overnight. "That's OK, I can accept that," she continued. "I can't accept the villainizing, and just all those stories. It's just amazing to me that the public kind of thinks that there is no gap in time that they didn't see that could possibly be what led to this."
Article continues below advertisement
THE DATING HISTORY OF MILEY CYRUS: FAMOUS EXES CODY SIMPSON, LIAM HEMSWORTH AND MORE PHOTOS
"Like, it's not, 'One day you were happy on the carpet, and the next you're making out with your friend in Italy, what the f--k?' Well, there was a lot of time between that you didn't see."
The 'Midnight Sky' songstress and Hemsworth, 30, announced they were parting ways in August 2019 after 10 years of being in an on-again, off-again relationship. Following the split, Cyrus moved on with Kaitlynn Carter and then Cody Simpson.
WE CAN'T STOP, WON'T STOP LOOKING AT MILEY CYRUS' CRAZIEST OUTFITS OVER THE YEARS
Simpson, 23, and Cyrus recently broke up in August 2020 after less than a year of dating. However, the Tennessee native made it clear that they are on good terms. Now, Cyrus admitted she "wants the soul connection" in her next relationship. "I think men in my life have told me that I'm cold, or I'm a cold f--king bitch because I leave when things are done," she shared.
Article continues below advertisement
"I don't need a man or a woman that's going to take care of me," she explained. "I can take care of me 'cause I've got money, I've got all the things that I need to take care of myself. I need them to be able to take care of them."
Ultimately, Cyrus maintains that she "really" doesn't need "to be in a relationship at all," noting "this is a super pivotal moment for me right now."
"I haven't been single since 2015," she dished. "I mean … I've had a few months here and there where I've been single but not for a long period of time."
These days, the Hannah Montana alum feels like "a single, badass, grown, evolved, secure woman" and has come a long way over the years. "I've done the work and that's the thing," she said. "Some people say, 'How did you get here? You turned out pretty good.' And it's like, 'Due, I've worked really hard at it.'"