NEWS
20 Things We Learned from Episode 7 of 'The Real Housewives of Orange County'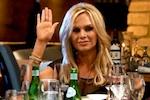 Article continues below advertisement
2. Tamra doesn't recharge Eddie.
3. Eddie rides his bike more than he rides Tamra.
4. Terry packed his surfboard for Malibu...in case anybody was wondering.
5. Slade is psyched to ride his bike too, man stuff.
6. Vicki isn't a great 5th wheel...she's not that girl.
7. You guys, this Malibu trip is mainly a business trip.
8. Lydia's son making Slade's son a get well card was the sweetest thing ever on this show.
9. Vicki needs to work on her filter.
10. Vicki has leg in mouth, not foot in mouth, says Gretch.
11. Checking into a hotel alone brought Vicki to tears.
12. Vicki's vodka ? What the?! Most of her energy is going there, BTW.
13. Don't text and ride... bikes that is.
14. Terry is telling wayyyyy too much to this whole table.
Article continues below advertisement
15. Brunch has officially turned into Dubrow marriage counseling
16. Eddie just slugging back a post bike brewski.
17. Vicki's dinner engagements apparent come before wines by wives.
18. Jim's balding... Alexis votes get plugs.
19. Heather and Terry are just going to hit the pause button and pick this back up next week.
20. Troy might start sleeping in his car seat... Mamas gotta sleep!
What did you think of last night's RHOC episode? Do you think Heather and Terry are going to work things out? How about Tamra and Vicki's business partnership? Tweet us @OKMagazine or tell us your thoughts in the comments below!