NEWS
5 Shows To Watch on TV Tonight Like The 'Tabatha Takes Over' Finale, Steve Carell and Kristen Wiig on Late Night and More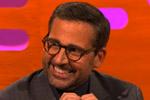 We're this close to the weekend, so hang in there and take solace in the fact that tonight's TV lineup is pretty great. See what you have to look forward to on primetime tonight below!
OK! Exclusive: Tina and Tarz Dish on The Newlyweds Shocking Season Finale
The Vampire Diaries. 8pm on The CW. Fine, you caught us. This episode is a repeat and new eps don't return until this fall. But tonight they're replaying the emotional breakup episode, so it's definitely worth revisiting.
Article continues below advertisement
Tabatha Takes Over. 10pm on Bravo. Tabatha bids farewell on tonight's finale by seeing where all the salons she helped throughout the season are now. Still need help? Or totally revamped? Tonight, ladies and gents, we find out.
The Show With Vinny. 10pm on MTV. If you're into up-and-coming artists, watch Vinny's talk show tonight as Iggy Azalea and Tyler the Creator pay visits to his crazy, Italian home.