NEWS
6 Fun Finds From the Secret Room Events Golden Globes Red Carpet Style Lounge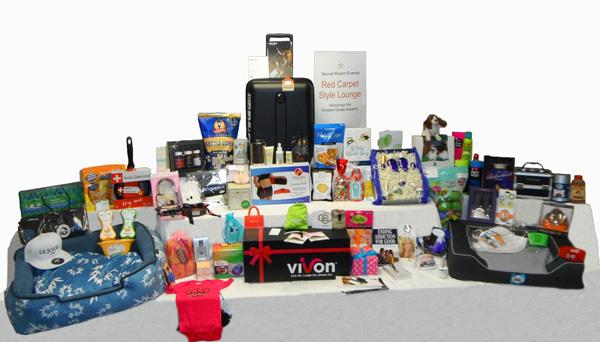 During awards season in LA, the only thing as fun as finding out who is taking home the big prizes on movie, music or TV's biggest nights is running to the various style lounges and gifting suites throughout the city in honor of the nominees.
These VIP events are chock full of new products and gizmos celebs get to experience firsthand, and I love getting the scoop from all of the sponsors. Here are my six favorite finds from Secret Room Events' Golden Globes Red Carpet Style Lounge, held at the SLS Hotel.
Article continues below advertisement
OK! News: I Survived Another Tracy Anderson Class
• Joey New York
Years ago I was obsessed with Joey New York's Bye Bye Blackheads, which is like a miracle worker for those of us plagued with large, clogged pores. At some point the skincare potion and I amicably parted ways so seeing Joey New York's table at the style lounge was like revisiting an old friend. I'm back on board with Bye Bye Blackheads (seriously, it's awesome) and learned about other products that I wasn't already familiar with, like their Polynesian Coconut Water Beauty Pads, which can be used as a serum, light peel and skin brightener.
• Offenbacher Gourmet Fudge
They had me at fudge. I fell in love with their original recipe fudge (which comes from a family recipe), but Offenbacher also boasts fancy pants varieties like mango and champagne. Hint to my husband—I'd be really happy to receive a box of these goodies for Valentine's Day.
OK! News: Andy Samberg Reveals His Golden Globes Acceptance Speech Regrets
• Pet Head
For the record, I don't have any pets, but I am a beauty product junkie who thinks all creatures should feel beautiful all of the time, which is why I think Pet Head's line of grooming items for fur babies is pretty cool. Dog nail polish, dog dry shampoo, kitty deshedding wipes? It's all adorbs and so very Hollywood.
Article continues below advertisement
• Astara Skin Care
Did I mention I'm a product junkie? I was thrilled to spot Astara at the Style Lounge because their Blue Flame Purification Mask is quite simply the bomb dot com. It's so effective in clearing pores and feels like a professional grade product. It also happens to be a long-time favorite of Liv Tyler, whose porcelain skin is always enviable.
• Swiss Diamond Cookware
I love to cook and I love diamonds, so when I learned that Swiss Diamond Cookware boasts a nonstick coating using real diamond crystals, well, I was sold. Diamonds are a better heat conductor than copper, so while those fancy copper pots and pans may look pretty hanging in a kitchen, Swiss Diamond Cookware help distribute heat evenly across the pan.
• Zen Society Skincare
If you're looking for holistic skincare, Zen Society is a must-try. Not only do they have plenty of goodies for the face, but a fabulous body scrub and shower gel as well. Whipped up with organic ingredients like aloe vera and jojoba seeds, you'll feel good about applying these products to your skin.
Which awards show would you love to attend? Tell us in the comments or tweet @OKMagazine.