NEWS
Jillian Michaels Admits Nose Job: "Plastic Surgery is a Very Personal Decision"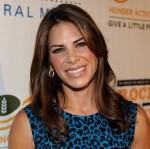 Trainer Jillian Michaels tells contestants on The Biggest Loser to shed unwanted pounds with rigorous diet and exercise, but she admits that unhappiness with her appearance led her to go under the knife.
The 5ft 2in trainer weighs in at a svelte 120 pounds but she tells Parade magazine that she was as an overweight kid who was bullied for her looks. "In eighth grade, I weighed 175 pounds and my nose was the size of a softball.
Article continues below advertisement
OK! NEWS: ALISON SWEENEY: NO DESSERT WITHOUT EXERCISE
"Once, I was sitting at lunch and got surrounded by a bunch of kids who let me have it about how ugly I was — my unibrow, the size of my nose, the fat rolling over my jeans. It was pure hell. My mom had to pull me out and put me in another school."
Jillian also made another decision: "I had my nose done — it made a big difference in my life. I felt much better about myself. Plastic surgery is a very personal decision."
OK! NEWS: REALITY TV SUMMER PREVIEW: LOSING IT WITH JILLIAN
The 36-year-old is starring in her own show, Losing It With Jillian, in which she traveled around the country helping families lose weight. "I still identify with people who are struggling to an extreme degree. I want to fix the situation," she says. "Helping others brings peace to the helpless feeling inside of me."
Jillian admits she's been in therapy since she was five years old. "I was a very anxious kid. I had night terrors. I couldn't breathe. My mom is a therapist, and she wanted to make sure that I had someone to talk to.
Article continues below advertisement
OK! NEWS: ALI VINCENT'S BIGGEST LOSER BLOG: IS BIGGER REALLY BETTER?
"I had a very strained relationship with my father, especially when my parents got divorced. I still try to go to therapy at least twice a week. It has given me the confidence to pursue the things I love, and it's important that I don't end up playing out my own pain and insecurities with the people I'm trying to help."
While she is estranged from her father, she credits her success to her mom's presence in her life. "I don't know where I would be without my mother's patience and constant love. She taught me that I have value beyond measure.
Article continues below advertisement
"I have these conversations with myself where I say, 'Everything's going to be fine.' And then I tell myself, 'No, it's not. It's a disaster.' I'm brutal with myself. I'm obsessive. When I describe myself, it's tragic."
OK! NEWS: JILLIAN MICHAELS MAKES THE MOST OF HER HARDCORE WAYS
But the 36-year-old is determined to become a mother either with or without a partner. "I'm hoping I'll have the motherhood thing figured out within five years. I was an only child for a long time, and it was lonely, so I would like to have at least two kids.
"As long as children have love, that's all that matters, but in an ideal scenario I'd want them to have a father."