NEWS
Adrienne C. Moore Talks Orange Is The New Black's 'Powerful' Third Season And Why Working Mothers 'Can Do It All'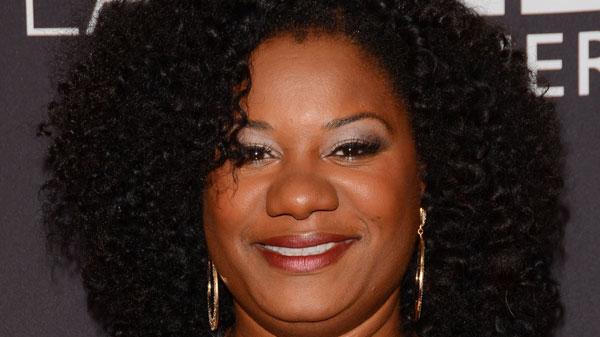 She's played the much-loved inmate Black Cindy on Orange Is the New Black, appeared on the small screen in shows like 30 Rock and Blue Bloods and hit the stage in a few off-Broadway productions. But when presented with the chance to take on the part of a selfless working mother, Adrienne C. Moore leapt at the opportunity to delve into the layers of a character she'd encountered numerous times in her everyday life.
Article continues below advertisement
Partnering with Make It Work proved the ideal project for Moore who, while working as a babysitter during her years as a graduate student at The New School for Drama in New York City, witnessed the hard work and struggles faced by many of the parents she assisted. And the actress used those real life experiences to embody her character for the How We Do It short film -- in which she plays a mother who must tackle a bevy of challenges while navigating the highs, lows and never ending surprises of parenthood.
Article continues below advertisement
OK!: What made you want to be involved with the Make It Work campaign?
Adrienne C. Moore: It was a project that my agency brought to me. When they explained to me the mission of the campaign and the organization Make It Work, which is really starting to be an advocate for hardworking Americans today, I really identified with that. That's what my initial interest in the project arose from. Then I read the script and really got into specifics that they are really trying to advocate for working moms and dads and single moms and single fathers and folks that are having trouble finding help with their childcare. And one thing that I really identified with being a person that has an undergraduate and a graduate degree are student loans. So that's really what made me excited about the project and want to give a voice to it.
Article continues below advertisement
OK!: Student loans are very real!
Moore: I think that's something that we all at some point are dealing with. I think there's some idea that's going around that student loans are good debt to have for whatever reason. I don't really know the reason why people say it's called good debt. It's still something that looms over us and we are constantly working month-to-month to pay off. And you're like, "I hope I'll be able to pay this off before I retire one day."
OK!: What were some of the biggest challenges you faced trying to make it in the entertainment industry?
Moore: It's goes without saying that living in New York City is very expensive, and I moved there as a graduate student. I was a full-time graduate student which meant there was only a little time for me in a day to make money. So I did have to take out a bunch of student loans. And even then, just to satisfy the day to day living. I remember at one point when I was looking at whether it was cheaper for me to live on campus or get my own apartment, it was actually cheaper to get my own apartment because of what it cost quarterly to live on campus. So I had to get subsidized income for that, and I had to still get part time jobs. I did everything from working at a cookie factory to babysitting to temping everywhere I could. I even worked at the farmers market with some friends.
Article continues below advertisement
And then once I graduated, it set in, "You can't take out student loans anymore, Adrienne, to help with the cost of living." So I had to go on public assistance. But this is something that most actors, particularly living in New York, find as a struggle -- trying to maneuver the city and still trying to find auditions and find work.
OK!: And did you know any single parents that were doing the same thing as you but also had to take care of kids.
Moore: I was a babysitter. That was one of my jobs. I remember this one single mom lived in this studio apartment, and I think she was temping at the time herself. It was a little unfortunate. I certainly felt her stress. She lived in this studio apartment, and this tiny hallway that led to the bathroom is where the baby's crib was sort of stuck in the corner, in the hallway. Then I have friends that are single moms, not necessarily actors, but they are single moms who are trying to make it work. I know one of my friends ended up moving out of New York to move to a city and state that would make it easier for her to work and care for her child.
Article continues below advertisement
OK!: Have any of your Orange Is the New Black castmates commented on the video?
Moore: I'm not sure. When we are on our downtime, everyone is everywhere in the world doing things. I did speak to one of them the other day, and she said she ran into two of the individuals that co-founded the Make It Work campaign, so I'm pretty sure she did see it.
MORE ON:
Orange is the New Black
OK!: I really loved how the Montell Jordan song "This Is How We Do It" was included at the end!
Moore: It was so fun making that video. It was one of those instances where not only do you enjoy what you do but you enjoy what you do because what it is talking about. Some of the individuals were talking about how they are moms and dads and they really love their jobs. But often times, in particular for the women, they would have to sort of hide the fact that they were parents from their work because they didn't want to have that cast a shadow -- you know, if they needed to run out and pick up their kids from school or if they were sick and they needed to go check in on their kid.
Article continues below advertisement
It was just sort of interesting to still see that those things still happen in our society today. We have companies that are very open and are giving to individuals that have families, in terms of giving them certain days off so they can work from home or things like that. But it still happens in certain companies today, and sometimes women do get looked down upon if they try to juggle both family and work.
I actually read this study awhile. They pulled women an men and sort of asked them how do they perceive a woman who is juggling both her work and her family. And it seemed that this pool of individuals favored men over women. Because for men, it sort of looks like they are stepping in and they are helping out. But for woman, it's still this thing because you're the woman of the family, and you're the caregiver. You're the mother. So you're supposed to do both. But it is difficult to juggle both.
Article continues below advertisement
OK!: And how have you seen single parents, specifically working mothers, combat those negative views?
Moore: I applaud women because I think women can do it. I think what Make It Work is trying to emphasize is that you actually can do it, but we still need help. We shouldn't have to or be expected to be a hero and do it all and keep this smile on our face.
I know for myself, with my experience in babysitting and seeing how parents have struggled to try to make it work, I was like I would love to open up some type of daycare center dealing with the arts. The arts are something I feel like in the school system sometimes get cut when fudging gets cut. I would love to open up something that kids can come to after school and before school and have these long hours for parents that are working and make it affordable for them. Maybe government can help fund programs like that more for parents where they can drop their kids off before they have to get to work and pick their kids up afterwards if they need to. It's something that would be for all ages.
OK!: Speaking of the arts, a lot of people may not know that you got your start in theatre.
Moore: If you want to go back back, I'm from Nashville. My parents were those individuals who worked long hours, and they would put my siblings and me in after school programs. They had this musical studio called W.O. Smith's School of Music, and they had piano and singing and guitar and all this kind of stuff. We would literally just walk there after school and that's where they would pick us up. There was also a community theatre that was close by our school, so that's where I was first bitten by the bug as they say.
Article continues below advertisement
Then on through high school I took more of an academic turn and then I went into marketing. Marketing was sort of my first professional gig and I did the that for a few years after college. Then I had sort of one of those come-to-Jesus moments where I'm like, "What am i doing with my life." For me, the next logical step was find a husband, have kids. But I was like there are some things that I still want to do before I get married, and acting was that. So I said before I get into husband and mommy land, let me take a stab at this. That's what propelled me to enter into graduate school for that because I had sort of taken this path away from it. I wanted to immerse myself back in it. And not only in the culture, which is why I moved to New York, but to sort of get a technical understanding of the craft. That's why I chose grad school.
OK!: Now we can't end this chat without you letting us know what we can we expect from the third season of Orange Is the New Black.
Moore: I don't want to give anything away to you just yet because I feel like it's sort of going to be powerful season. I think Jenji Kohan has mentioned that this season will highlight a little bit about religion, which hits home to me in a personal way.
I think that's all I will say so you guys can enjoy it and soak it up and see how it resonates with people. Because I think our spirituality is something that we all can connect to whatever spectrum our belief is. It will certainly cause a lot of conversation, as they all do, which I think is something great about Orange. It evokes a lot of conversation and opinions, and it really brings to light how people feel and what people are thinking about and are struggling with.
OK!: Now to wrap, you stole from a Girl Scout in the film for you child -- which was a pretty funny moment!
Moore: Laughs Yes, and I was a Girl Scout!
OK!: Would you ever do that for your child, even though you did take the dollar back to the little girl at the end!?
Moore: I mean, I don't know if I would have just stolen it from her like that. I probably would have tried to charm my way into it. But I don't know, make it work. So question mark!