NEWS
Alec Baldwin's Daughter Ireland Says Infamous "Pig" Voicemail Wasn't a Big Deal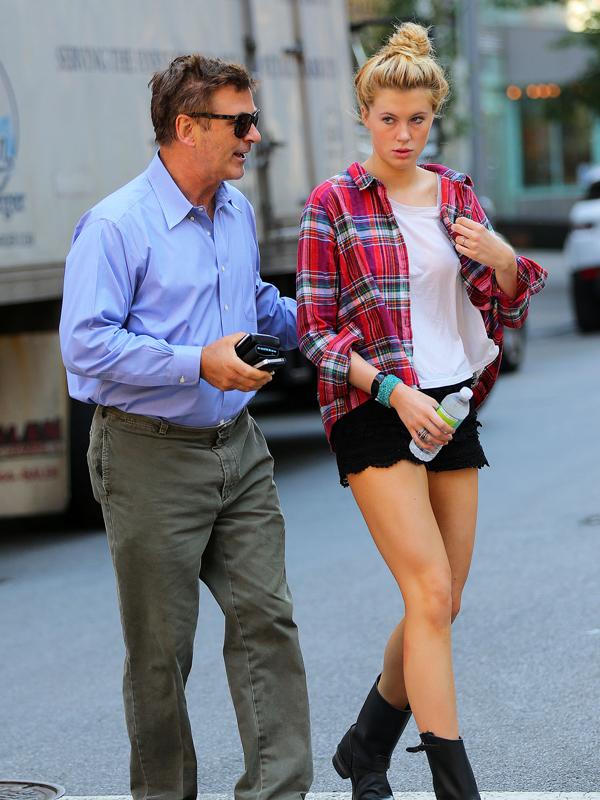 Article continues below advertisement
"The only problem with that voicemail was that people made it out to be a way bigger deal than it was," Ireland told The New York Post's Page Six magazine.
"For me it was like, 'Okay, whatever.' I called him back, and I was like, 'Sorry Dad, I didn't have my phone. That was it.'"
The incident is such a non-factor for them that the father-daughter duo "almost did something funny on YouTube — of me calling him and yelling at him. We were just talking about it the other week."
OK! GALLERY: TINA FEY AND ALEC BALDWIN GOOF OFF BETWEEN TAKES OF '30 ROCK' IN NYC
Ireland resides with her mother, Kim Basinger, to whom she bears more than a passing resemblance, and the fiery actor had been annoyed that Ireland had missed a scheduled phone call.
"You don't have the brains or the decency as a human being," Alec yelled in the voicemail.
"I don't give a damn that you're 12-years-old, or 11-years-old, or that you're a child, or that your mother is a thoughtless pain in the a-- who doesn't care about what you do as far as I'm concerned! You have humiliated me for the last time with this phone!"
Article continues below advertisement
The pair still have a good relationship, and Ireland was present when Alec tied the knot with yoga instructor Hilaria Thomas earlier this year. Ireland called Hilaria "like a big sister."
"I've always had a great relationship with my dad. And Hilaria and I are very close. We joke around and I call her 'Mom,'" Ireland laughed. "But I respect her; it's not like I'm Parent Trap-ping her — setting up booby traps in her room."
And, despite living through a nasty divorce, she says that she admires both of her parents.
"They worked hard and that's inspirational to me. I never want to get anything handed to me," Ireland said, sounding wiser than her years. She added that being in the public eye has it drawbacks.
"I had a regular schedule. I don't live in a five-story mansion, I don't drive a Lamborghini. The only difference being the kid of two celebrities is nothing in your life is going to be kept private and you have to watch your back. I've had people who I thought were my friends, but it turned out they just wanted concert tickets."