NEWS
Ali Fedotowsky Asks Jason Mesnick & Molly Malaney's for TV Wedding Advice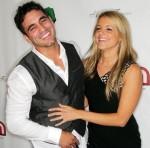 Ali Fedotowsky and Roberto Martinez are reaching out to former stars of The Bachelor and The Bachelorette to help answer the big question about their wedding — should they marry on TV?
Ali wants to talk to Trista and Ryan Sutter, "Asides from our little reach out on Twitter, I haven't really spoken to them quite yet, but I plan to."
OK! NEWS: ALI & ROBERTO "EXCITED" ABOUT SAN DIEGO
But happily married Bachelor couple Jason Mesnick and Molly Malaney have given a televised wedding the thumbs-up. "I have actually spoken through email, long and really nice emails, to Jason and Molly," Ali told reporters at the 10th Annual Harold Pump Foundation Gala in LA, Thursday night.
Article continues below advertisement
"And, I really appreciated that from them and Molly has been so sweet. She's like, 'My wedding on TV was the most magical day ever. Let me help you!'"
OK! VIDEO: JAKE PAVELKA MAKES HIS DROP DEAD DIVA DEBUT
Although they haven't tied the knot the couple are very much joined at the hip and Ali told OK! that life off camera "is just so great".
Roberto added: "I am just so happy and the little things like everyone else like, 'Where are we going to eat tonight? Should we order pizza?' It's cute things. Little things."
OK! NEWS: ALI & ROBERTO ARE "JUST TWO PEOPLE IN LOVE"
And the best part of living together? "Waking up every morning with each other," gushes Ali.
"He did something really sweet for me today," she adds. "It was so sweet. He left this morning to go to work early and I went out to my car — I am driving his car right now — and he left me a note on the dashboard saying, 'Good morning love! Drive safe. I love you!' It was unexpected. Those little surprises.