NEWS
Bachelorette Ali Fedotowsky Makes Her Choice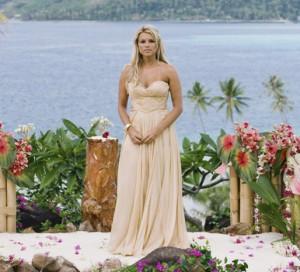 While some were positive that Ali Fedotowsky would pick Roberto Martinez, and other fans were sure she would decide Chris Lambton was the man she wanted to spend her life with, viewers last night couldn't tell which man the Bachelorette would choose until the very end. *Warning! If you haven't watched the season finale yet, SPOILER ALERT AHEAD!*OK! GALLERY: ALI FEDOTOWSKY KICKS UP HER WORKOUT ROUTINE WITH A HIKE
Article continues below advertisement
During last night's finale, Ali's suitors had the chance to meet her family — her mom, dad, brother and sister — and get to know them in the short time allotted for each of them.
Roberto seemed to score right away with his talk with Ali's mom, bringing her to tears as she admitted that she felt he was already making Ali happy. Dad was a bit more hesitant, finally admitting that Roberto seemed like a great guy. Then the whole family danced with Roberto and Ali giggled.
OK! EXCLUSIVE: ALI DISHES ON HER CULINARY TRICKS FOR A BETTER BOD
When Chris showed up for his familial bonding session, all he had to do was admit that he was also from Massachusetts and he had Alil's siblings on his side. Ali's mom also pressed him for some more insight on his relationship with his deceased mom, causing Chris to pause and tear up before answering.
Afterward, the family rehashed their experiences with both guys, and viewers were left wondering who they really did prefer. Maybe it was clever editing, or maybe they really were undecided.
Article continues below advertisement
OK! NEWS: ALI FEDOTOWSKY OPENS UP TO RYAN SEACREST ON FINALE
Next up, Ali and Roberto took a Jet Ski off to a private island for a romantic picnic, where it started to rain — perfect for a romantic make-out session in the surf. That night Roberto gave Ali a picture of the two of them with a special message on the back, leaving fans to wonder what Ali would do with the picture if she didn't end up with Roberto. Awkward!
But things seemed to be heating up even more as Roberto admitted, while cuddling in bed, that he loved Ali.
OK! EXCLUSIVE: CHRIS HARRISON DISHES ON BACHELORETTE FINAL ROSE SHOWDOWN
The next day Ali showed up to Chris' room, ostensibly to start their last one-on-one date. But instead she got nervous, stumbled over her words, and finally told him that she didn't want to put him through the rest of the process since she knew she was already in love with Roberto. Chris looked sad, told Ali she was amazing, she left, and we all wondered if he'll (pleeease! Pretty please!) be the next Bachelor.
Article continues below advertisement
Roberto hung out with Neil Lane and picked a somewhat simple square-cut diamond ring, but his demeanor and admission of being nervous led viewers to question whether he'd actually pop the question.
OK! EXCLUSIVE: ALI'S SLIM-DOWN SECRETS REVEALED!
By the time Ali was standing with that final rose in a long, flowing golden dress, and Roberto (in a somewhat ill-fitting, too-small suit, we might add) showed up, everyone knew it was either he stepped up and proposed or Ali would be left heartbroken. She said, "He's all I've got left," obviously, because she'd already sent Chris packing. And she let Roberto know, right off the bat — "You're the only one here."