NEWS
Ali Vincent's Biggest Loser Blog: Pitfalls On the Way to Success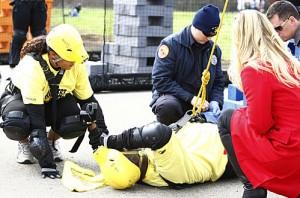 Each week, Biggest Loser champ Ali Vincent brings you her unique perspective on the show — only on Okmagazine.com!
Is it possible to be where you are at in your life for someone else?
This week started off with a bang as Ali Sweeney tempted the remaining few contestants with a never seen before Temptation.
Temptations on the Biggest Loser are never fun because the majority of them have to do with food. The only good news about them is that they only last a few hours. Needless to say this temptation didn't have that light at the end of the tunnel, it lasted ALL day. Not only did the temptation last all day but they also put the Biggest Loser kitchen on lock-down, which led all the contestants to have to face their demons every single time they needed to re-fuel their bodies.
Article continues below advertisement
ALI VINCENT'S BIGGEST LOSER BLOG: CAN CREDIT REPORTS CHOOSE A WINNER?
Now in the real world, yes, there are temptations at work, family and friends houses, parties, soccer games and so on — but you have the opportunity to do what I call "child-proofing" your life. All of us who deal with weight issues did not get them over, so there is no reason we should expect them to go away overnight.
When we have a child or children around us we take precautions so they do not put themselves in DANGER as they are learning the ways of the world such as crawling and walking, so they can figure out what is dangerous and what is okay. We put up gates around our houses, make sure there are no sharp corners that they might fall into to, we put contraptions on are cabinets and drawers so that they do not put possible harmful items into their mouths.... until they KNOW better.
ALI VINCENT'S BIGGEST LOSER BLOG: LET THE SUNSHINE IN
So since we know how to do things for our children why don't we do it for ourselves? This is a whole new lifestyle that many of us are embarking on. So clean out your cabinets, pantries, refrigerators and freezers! You will fall as you learn to walk through this new lifestyle so bumper those corners. Restock your environments with healthier temptations, and maybe then there will only be bruises instead of gashes! fter all you would NEVER suggest an alcoholic carry a bottle of booze around with them would you?
Article continues below advertisement
I know that the prize for this temptation was going to someone, and it was huge to have the only vote at elimination... but really, Koli? Did you have to go that far? Hotdogs (plural), burgers, wings, donuts and so on, all in the name of Sam. Poor O'Neal — a fall like that with a pound to be added to the contestant that comes in last.
ALI VINCENT'S BIGGEST LOSER BLOG: BEAUTIFUL VICTORIA!
Is this the second time this season that someone was sent to the hospital which caused them to be unable to finish the challenge and therefore receiving the penalty? Last chance and there wasn't any wiggle room this week, it was a given if Sam fell below with someone they were going home but if Sam was safe and O'Neall fell with someone you were out as well.
The odds this week SUCKED!? Who would have thought, Sushine and Vicky? I know that even though Koli had an hour, his mind was made up as soon as Sunshine fell below the line. You go girl, and show Koli that only Vicky knows how hard Vicky is working. Come back to the finale, honey, and show all of them! I believe the third time is the charm, good luck.... You can do it!
What a week of stress and emotion, you can really tell a toll is being taken on all the remaining contestant I guess it's getting to the point where it's like, at what point do you let go of your securities, and are they really keeping you safe? From what?
Until next week,
Ali xo
Since becoming the first female champ on The Biggest Loser, Ali has found a new life as a motivational speaker and author. Her new book, Believe It, Be It, is currently available at bookstores everywhere. For more, be sure to check out her Twitter page and her personal site.